He sells local to international flower varieties in his small shikara boat to the tourists, who visit to experience the magical scenery of Kashmir…reports Asian Lite News
As early as 4.30 in the morning, there is a movement of shikaras in Dal Lake, Srinagar. Boats plying in Dal are called Shikaras in the local language, which is also the source of livelihood for hundreds.
The fruit and vegetable-laden shikaras often seen in prominent photographs of Srinagar are of the 'Gudir' that takes place at sunrise in Srinagar. The early morning vegetable market in Srinagar, locally called 'Gudir', attracts wholesalers and customers from across the city. In simple language, it is a market or market on boats in the lake. Apart from floating shops of local vegetables, fruits, food shops for the people who come to Gudir are also seen here on the hunts. Even before the first rays of the sun fall on the lake, people start commuting to the market to take lotus stem, Kashmiri red radish, greens, watermelon etc. and by six o'clock shikaras filled with vegetables start coming back from the market or floating market. Huh.
Kashmir is also known for its colorful, rare species of flowers. And people who filled their shikaras with the same flowers are also seen selling flower seeds in the Gudir. 24-year-old Sikandar Ali has been selling flowers in the magnificent Dal lake of Srinagar surrounded by the Zabarwan mountain range. The selling of flowers has become a routine day affair for Ali for the past seven years.
Once a German tourist visited the lake and was so mesmerized by Ali's flowers that he named him 'Mr. Marvelous'. Since then this pet name has been static with Ali. Every day, he sets his boat with beautiful flowers and proceeds to sail in Dal Lake. He sells local to international flower varieties in his small shikara boat to the tourists, who visit to experience the magical scenery of Kashmir.
Ali hails from Srinagar and doesn't have big dreams. Several years ago while roaming in the Akhoon Mohalla, adjacent to NIT Srinagar, where he lives with his family, he decided to opt for selling flowers and earning cash for his family. Incidentally, his family also had been in the flower-selling business. Ali doesn't aspire much but is quite content with selling flowers to tourists in his small shikara.
One of the high points of flowers sold by Ali is their shelf-life which varies from 10 days to as long as one year. The varieties that Ali sells range from Chrysanthemum to Cosmos, Floss Flower, Mealycup Sage, Orchid, Glardalia, African Daisy, Bluebell Flower, Aster Flower, Lotus Marigold, Carnations, Jasmine, Heart Flower, Bird of Paradise, Celosia and Lavender among others.
Sikandar told us that the life span of these flowers ranges from 10 days, 6 months to 1 year and it can go beyond that. Their beauty will remain the same. Some of them look artificial but they are real, he said.
Ali also has exuberant roses in his armour like blue, black, and green.
Sikander is of the view that the flower and plant market is on the rise in the Valley as more and more people are showing interest in horticulture. Ali, who is an undergraduate student at Gandhi Memorial College, sells about 350 varieties of flower plant seeds.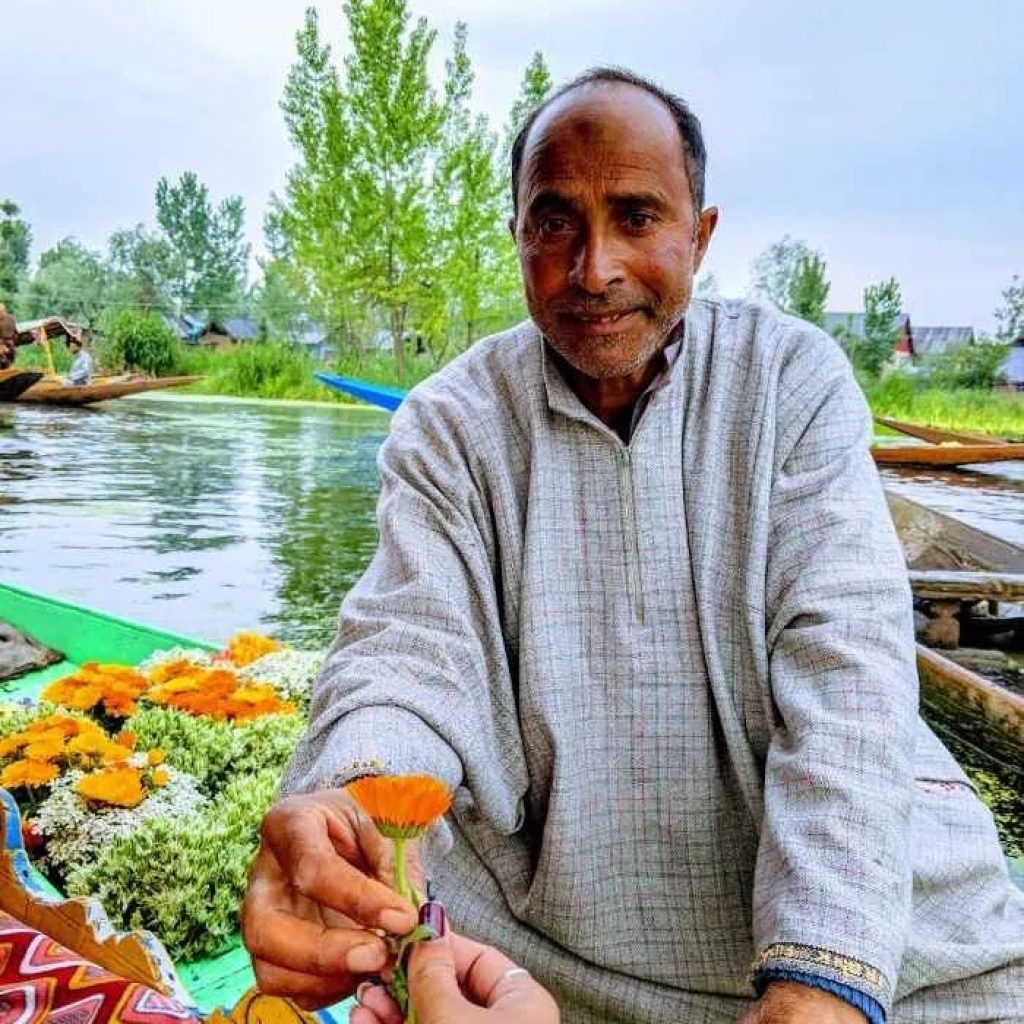 Ali explains, "People from every country come here. Anyone who comes to Srinagar once visits this floating market. Buying flower seeds early in the morning. All these flowers bloom even in 50-degree temperatures. Here flowers cannot survive in extreme frosts, but you can take these seeds with you wherever you go. We have flowers like Nargis, Lily, Lotus, Kashmiri Jasmine, Rose, Lavender, and many more."
As the evening sets in, Ali wades through Dal Lake's cold water to return home with only a handful of flowers left after the day's sale and wishes to keep his family's name going in the flower business.
(The content is being carried under an arrangement with Daily good morning Kashmir)
ALSO READ-Purple Revolution Fuels Agri-Tech Start Ups in Kashmir