The Senate Democratic Caucus' letter was signed by 24 Democrat and two aligned independent senators, led by Chris Van Hollen, Chris Murphy, Brian Schatz and Jack Reed…reports Asian Lite News
Members of the US Senate Democratic Caucus wrote to President Joe Biden on Wednesday in support of his pledge of military assistance for Israel, but asked him to ensure Israeli authorities have a viable plan for defeating Hamas while also taking all possible steps to protect civilians in Gaza.
The letter was signed by 24 Democrat and two aligned independent senators, led by Chris Van Hollen, Chris Murphy, Brian Schatz and Jack Reed, who said they represented a majority of the 51-member caucus.
The ongoing Israeli offensive in Gaza, launched in response to the Oct. 7 attacks by Hamas on targets in Israel, has created an increasingly dire humanitarian situation inside the besieged territory.
"We have joined you in condemning the brutal attacks that Hamas conducted against Israel and agree with you that Israel has the right to defend itself and hold Hamas accountable," the senators told Biden.
"We applaud your actions to secure the release of two American citizens held hostage and support your continued efforts to free the remaining hostages. In the days and weeks since these attacks, you have rightly demonstrated America's commitment to support Israel in this dark hour."
Referring to the American response to the Sept. 11, 2001, attacks on New York and Washington by Al-Qaeda terrorists, the senators said it was important that Israel "learned from the mistakes the US made" in the fight against terrorism, by focusing on realistic and achievable military goals while abiding by the laws of war, including the protection of civilians.
This, they said, offers Israel the "very best chance of success against Hamas" in the days and weeks ahead and would create the conditions for a "lasting peace, including two states for two peoples."
They continued: "We believe the US should immediately provide Israel with the funding it needs to replenish its defensive systems, including Iron Dome and other air-defense capabilities.
"But to better understand the efficacy of US funding that supports Israel's operations inside Gaza, we respectfully ask your team to provide us with information relative to these two clear US priorities: supporting an Israeli strategy that will effectively degrade and defeat the threat from Hamas, and taking all possible measures to protect civilians in Gaza."
The senators asked for answers to a number of other wide-ranging questions, including an assessment of the viability of Israel's military strategy in Gaza, whether it prioritizes hostage release, and whether there is an achievable plan for governing Gaza when the military operation ends.
They also asked for more clarity on what measures the president's administration is taking to ensure that Israeli military operations inside Gaza are carried out in accordance with international humanitarian law, and that any US-provided equipment is used in a manner consistent with American laws.
They urged Biden to seek immediate, public assurances from Israeli Prime Minister Benjamin Netanyahu that his government would take action to end extremist settler violence targeting Palestinians in the West Bank, as well as assurances from Palestinian President Mahmoud Abbas that his government would take steps to quell any violence against Israelis.
"We must not only do our part to provide urgently needed humanitarian relief to Gaza but also insist that Israel take all necessary measures to help us facilitate such relief to the 2 million civilians living there, half of them children," the senators wrote.
"That includes fully restoring water, electricity and communication services, expediting fuel deliveries through already well-established systems for avoiding diversion to Hamas, and opening the Kerem Shalom crossing in southern Israel to increase urgently needed humanitarian relief to Gaza. Aid workers and civilian sites like schools, hospitals and UN facilities must be protected."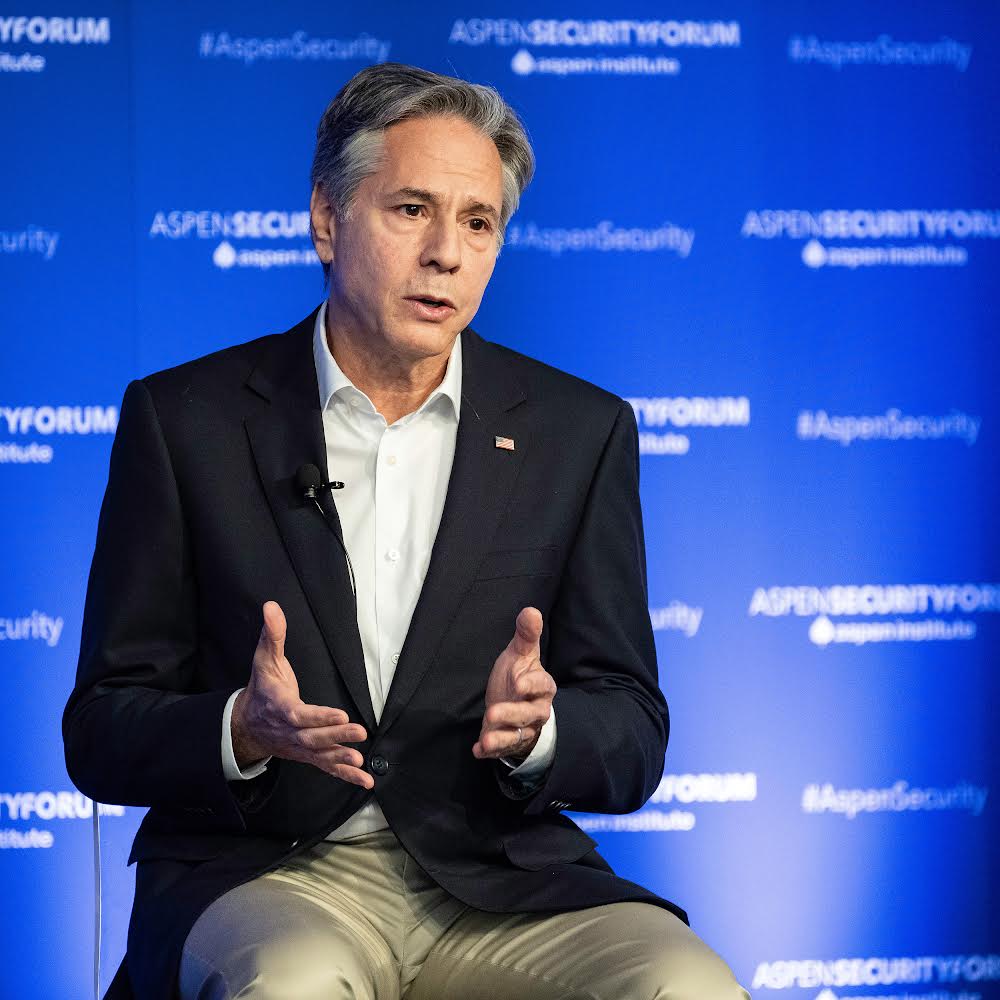 Blinken reiterates key elements for diplomatic efforts
Meanwhile, Secretary of State Antony Blinken said that the only way to ensure that this crisis never happens again is to begin setting the conditions for durable peace and security and to frame diplomatic efforts.
The US stressed that these key elements should include no forced displacements of Palestinians from Gaza, stressing, "not now, not after the war."
Additionally, he said that Gaza should not be used as a platform for terrorism or other violent attacks.
"No reoccupation of Gaza after the conflict ends. No attempt to blockade or besiege Gaza. No reduction in the territory of Gaza," he added.
Blinken further said that it should be ensured that no terrorist threats can emanate from the West Bank, adding, "We must also work on the affirmative elements to get to a sustained peace. These must include the Palestinian people's voices and aspirations at the centre of post-crisis governance in Gaza."
Moreover, he emphasized that it must include a sustained mechanism for reconstruction in Gaza and a pathway for Israelis and Palestinians living side by side in their own states.