Anita Dongre's recently released vegan accessories and jewellery are displayed on the ground level next to specially created wallpaper inspired by her embroidery designs…reports Asian Lite News
A cheerful yellow structure with gleaming teak balconies that reflect the sun's light through a variety of stained-glass designs is located across the street from the Jehangir Art Gallery and the iconic David Sassoon library. The historic Sassoon Building now houses Anita Dongre's newest flagship store — a love letter to craft, an embrace of a bygone period, and a celebration of old meeting new-after being transformed by the designer's vision and a year of architectural attention.

Says Dongre, "Bombay is my home, and the Sassoon building has witnessed every change of this city. In restoring this building we wanted to keep as much of its original form as we could- stained glass windows, timber beams and staircase, the tiles… I wanted to bring back the luxury of the 19th century and have it meet the effortless grace of the 21st century. It's been a particular joy to realise a vision that mixes Indian crafts with colonial architecture against art that celebrates nature's bounty. I'm excited to watch people experience this space through all their senses — sight, smell, touch, and heart."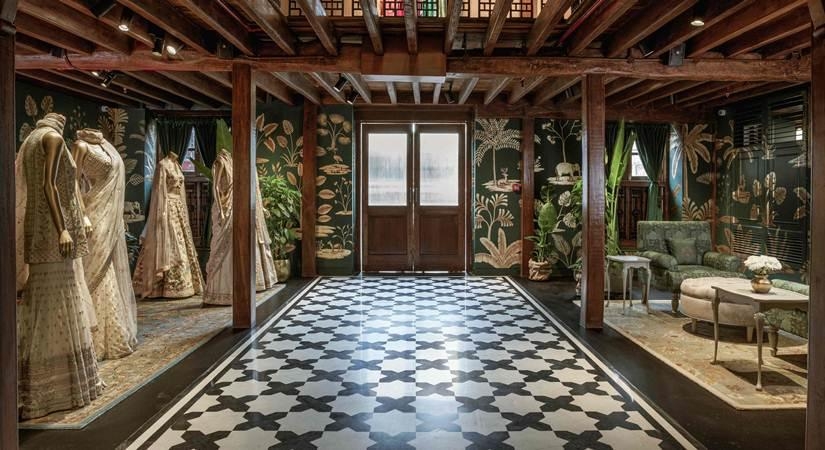 Expect a sense of calm to overtake you as you open the ground level doors. Set foot on the distinctive black and white marble flooring designed by Anita Dongre, inhale the rose aroma, and gaze at the lush green and gold handpainted pichhwai walls that support 200-year-old exposed teak beams as you escape the busy Dalal Street. An "otla" — style open verandah with original cast iron railings and stained glass made in the same patterns the Sassoon building displayed in the 1800s peeks down at you from the level above. Rajasthani jharokhas surround this verandah.

Anita Dongre's recently released vegan accessories and jewellery are displayed on the ground level next to specially created wallpaper inspired by her embroidery designs.

The Sassoon building originally had a plain ground floor and three upper levels that were reached by a beautiful timber stairway. After passing rich gold pichhwai nature scenes painted against an emerald green base, you will ascend to the first level on this lovely teak staircase that has recently been restored. Grassroot and the ready-to-wear line are located on this level, which also contains 200-year-old metal and timber frames and craft stories.

Menswear is displayed on the second level against hand-painted pichhwai walls in grey and gold. Behind a wall of lush verdant plants, light streams through the balcony doors. The balconies were only added, as can be seen in old photos of this structure, after the fort walls were taken down around 1865. The lavish wooden balcony structure is supported by cast iron columns with Corinthian caps, which are lined with glazed tiles. The wooden balconies were revived, stained glass was carefully recreated from old photographs, and original tiles were saved while new ones were made to match the pattern during the restoration of this level. Enjoy a priceless amenity here: a calm gallery to observe the passing of time. Take in the Rajabai clocktower and the many architectural wonders of Kalaghoda.

The feeling of luxury that this building's high ceilings, wooden floors, and pools of light evoke is amplified by triptych mirrors. The third level, also known as the bridal floor, offers the ultimate indulgence. As you ascend the grand stairway, you can see the domed timber roof, which is now just out of your grasp. Richly embroidered lehengas in pools of theatrical light and a tikri wall that transports you into ballrooms and castles greet you when the doors open.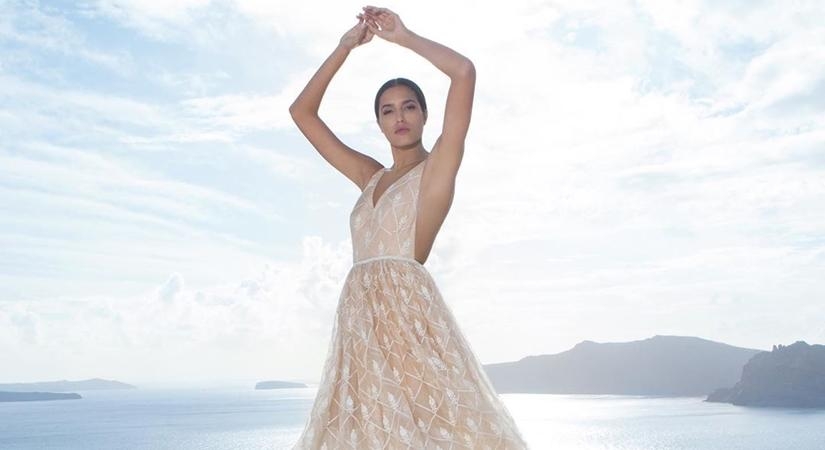 Dongre's newest flagship store in the heart of Mumbai's art district – Kalaghoda is proof of how the forgotten can find a place in our modern world- whether craft, architecture, or a way of life. From hand-embroidered cushions and elephants embroidered on sheer curtains, to restored metal and woodwork, and tiles and stained glass that recreate the grandeur of "Bombay" before the fort walls went down, every inch of the 8500 square feet of Sassoon Building is given a new lease on life while celebrating the inherent and original elements of luxury. As you walk out of this experience, you'll carry with you a feeling of tranquility and freedom.