French Interior Minister warned the proposed law could harm relations, while stressing that Britain should work with the EU to better coordinate migrant policy…reports Asian Lite News
Britain's plan to refuse to allow migrants arriving in small boats the right to claim asylum may breach its international obligations, the EU's home affairs commissioner Ylva Johansson warned.
Arriving at a meeting of European Union interior ministers in Brussels, Johansson said she had spoken to UK Home Secretary Suella Braverman to discuss the planned legislation, which may breach European and UN conventions.
"My immediate reaction is I question whether this is in line with international obligations. She promised me it is, so let's hope she's right, but we have to examine it a little bit further," Johansson said.
On Wednesday, Braverman told ITV News that she had invited Johansson to study the UK proposal in more detail but stressed: "We are no longer members of the European Union and so we are free to determine our own borders and migration policy."
Prime Minister Rishi Sunak has vowed to "take back control of our borders once and for all" by detaining and deporting any migrants caught crossing the Channel from France or Belgium in small boats.
More than 3,000 migrants have arrived in this way so far this year, and the backlog of asylum claims now exceeds 160,000.
The crossings, many organised by criminal smuggling gangs, are dangerous. In November 2021, at least 27 people drowned in a single incident.
Sunak's government says the new draft law, which could see some migrants expelled to Rwanda, is the only way to beat the smuggling gangs.
But opponents, rights groups and the United Nations say it would turn Britain into an international pariah under European and UN conventions on asylum.
Britain also hopes to negotiate a deal with France to better handle the situation on its Channel coast, where would-be refugees gather in makeshift camps looking for ways to make the crossing to Britain.
Sunak will meet President Emmanuel Macron at a summit in Paris, and an aide to the French leader told reporters the pair were working on a deal to increase the resources available to police the border.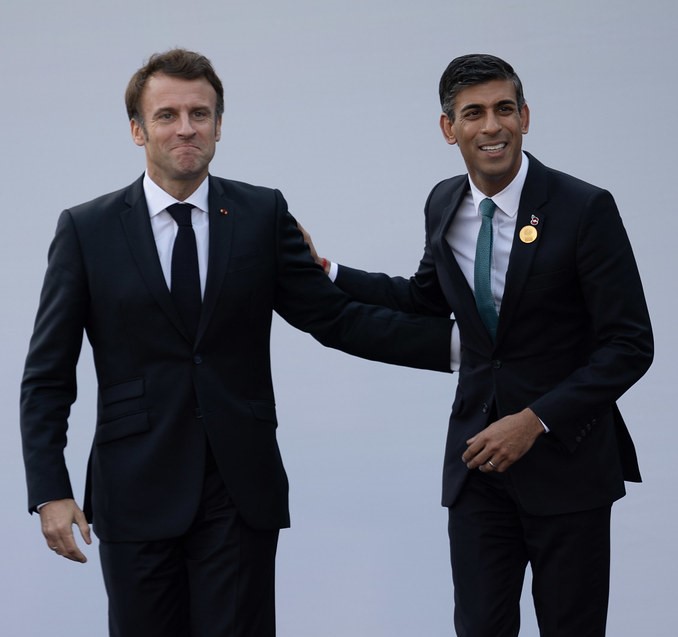 But, arriving at the Brussels meeting, French Interior Minister Gerald Darmanin warned the proposed UK law could harm relations, while stressing that Britain should work with the EU to better coordinate migrant policy.
Darmanin said Macron and Sunak would discuss the legislation on Friday but that the goal should be a treaty between the UK and the EU to provide legal access routes for migrants to cross the Channel and a system to return those refused asylum.
The EU ministers, meanwhile, were to discuss their own differences about how to better divide the task of sharing migrant arrivals and managing asylum claims.
Austria's interior minister Gerhard Karner said the British situation showed Europe should tighten its own rules.
"The discussion in Great Britain shows the pressure on Europe in terms of illegal immigration, and the abuse of asylum procedures is getting stronger and stronger," he said, urging EU funding for border protection and "new opportunities on the legal front".
On Tuesday the UN refugee agency UNHCR said the plan removes "the right to seek refugee protection in the United Kingdom for those who arrive irregularly, no matter how genuine and compelling their claim may be".
By denying protection to asylum-seekers and even the opportunity to put forward their case, the plan "would be a clear breach" of the international Refugee Convention, it said.
However, the British plan found some sympathy from the Austrian government.
According to the Austrian Interior Minister, Gerhard Karner, "The discussion in Great Britain shows that the pressure on Europe is increasing in here terms of illegal migration and asylum abuse. In Europe, we have to control and concentrate on our issues."
The United Nations' refugee agency urged British lawmakers to reconsider the plan, saying it would be a "clear breach of the Refugee Convention" and amount to an "asylum ban."
The government says the new law, once approved by Parliament, will deter migrants and hobble smuggling gangs who send desperate people on hazardous journeys across one of the world's busiest shipping lanes.
Sunak said the law would "take back control" of U.K. borders — a central pledge of the successful but divisive campaign to take Britain out of the European Union.
"The current situation is neither moral nor sustainable," he said at a news conference, standing at a lectern emblazoned "Stop the Boats."
"If we can't stop the boats, our ability to help genuine refugees in future will be constrained."
The bill calls for people arriving by boat to be detained for 28 days and then deported, with exceptions only for children, those medically unfit to fly and people at risk of serious harm, and with limited grounds for appeal. Migrants who are victims of human trafficking would be barred from using Britain's modern slavery laws to prevent deportation.
ALSO READ-UK govt proposes bill to deport illegal asylum seekers