The US is looking forward to doing everything it can to support India's work to make its G20 presidency a success, says Secretary of State…reports Asian Lite News
United States Secretary of State Antony Blinken has hailed India's effort in tackling the possibility of Russia using nuclear weapons in the ongoing war against its neighbouring nation.
Blinken said that the Biden administration had been in direct contact with Russia's Foreign Minister Sergey Lavrov following President Vladimir Putin's open warning to the already war-torn nation. Besides, Blinken said that America also approached other nations such as China and India to soft-soap Russia with their diplomatic leverage and added the results were positive.
The G20 meeting of foreign ministers has again been marred by Russia's invasion of Ukraine, Secretary of State Antony Blinken said on Thursday, as he called for the bloc to call on Russia to withdraw its forces.
The US is looking forward to doing everything it can to support India's work to make its G20 presidency a success, Blinken said.
The war has been a major sticking point at meetings of the G20, which groups the world's largest economies and includes both the United States and Russia, since Moscow launched its full-scale invasion of its neighbour on Feb. 24, 2022.
"Unfortunately, this meeting has again been marred by Russia's unprovoked and unjustified war against Ukraine, deliberate campaign of destruction against civilian targets, and its attack on the core principles of the UN Charter," the top U.S. diplomat told the bloc's foreign ministers, according to prepared remarks shared with reporters after Blinken delivered them on Thursday morning.
The G20 should repeat calls – agreed upon by most G20 nations' leaders in Bali in November – for Russia to end the war and withdraw for the sake of international peace and economic stability, Blinken said.
"Even as we rally support for Ukraine, we remain focused and leading on global challenges. It's what the world needs and expects," he added.
Blinken said Russia has yet to agree to renew the Black Sea Grain Initiative, which facilitates the export of Ukraine's agricultural products, before it expires on March 18.
"It is imperative the G20 speak up on behalf of extending and expanding the (Black Sea) grain initiative to strengthen food security for the most vulnerable," Blinken added.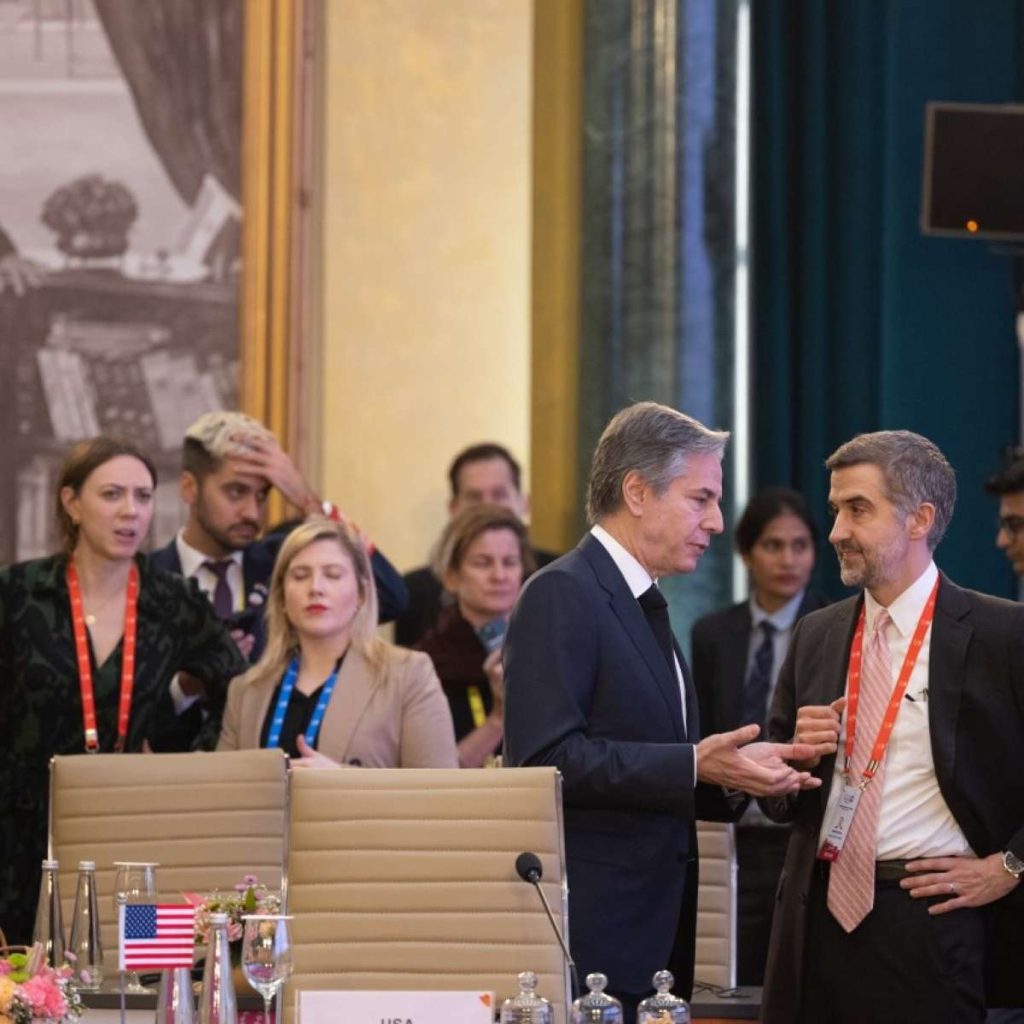 'No plans to meet Russian, Chinese counterparts'
Earlier, Blinken said that he has no plans to meet either the foreign ministers of Russia or of China during the G20 meeting.
Blinken was on a brief tour of Kazakhstan and Uzbekistan and will head to the Indian capital for the G20 meeting, where Moscow's invasion of Ukraine will be an important part of discussions.
Russian Foreign Minister Sergei Lavrov and Chinese Foreign Minister Qin Gang are attending the meeting.
"No plans to see either (China or Russia's foreign ministers) at the G20, although I suspect that we will certainly be in group sessions of one kind or another together," Blinken told reporters in the Uzbek capital.
A Russian foreign ministry official said Lavrov was aiming to meet at least seven foreign ministers before India hosts a welcome dinner on Wednesday for delegates from 40 countries. The main G20 meetings will be held on Thursday.
During his trip to Kazakhstan and Uzbekistan, Blinken met with counterparts from all five Central Asian countries that used to be ruled from Moscow and have strong trade links with Beijing, ahead of the G20 foreign ministers' meeting.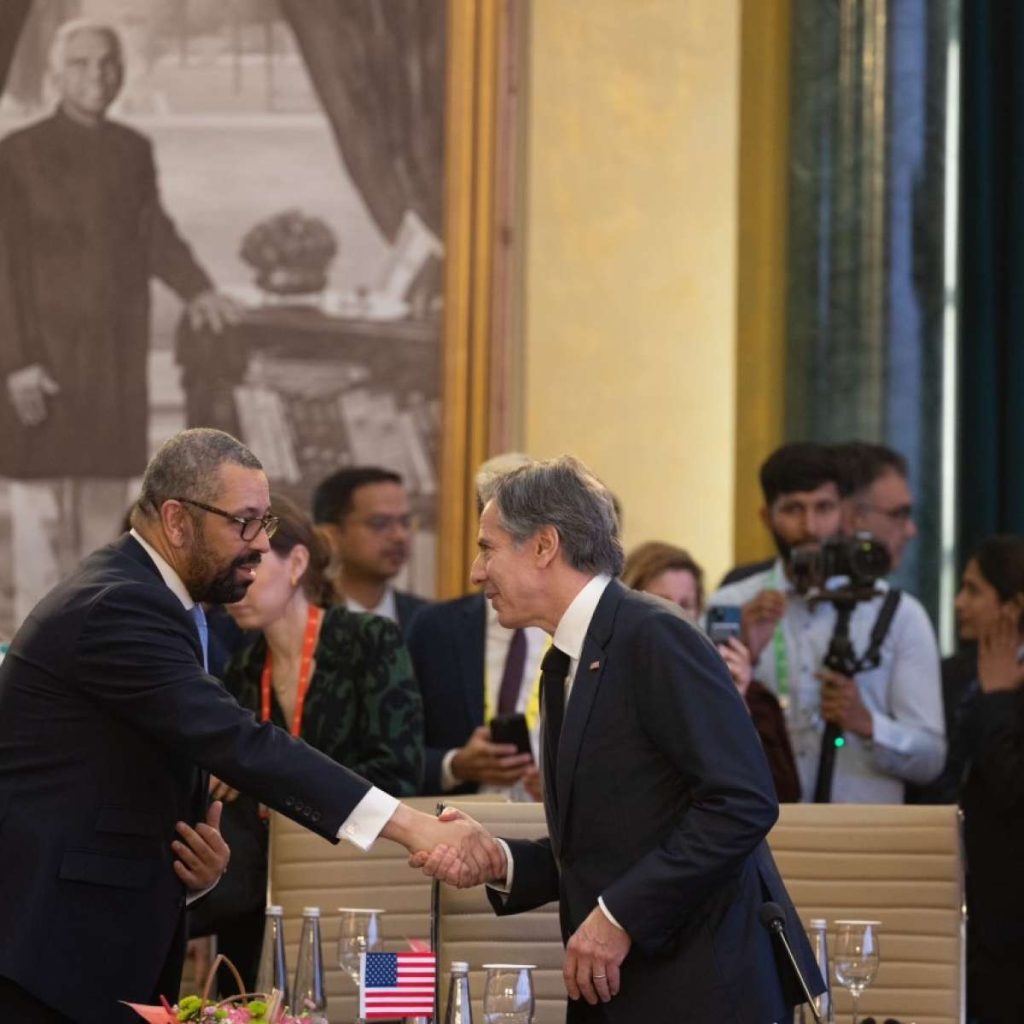 'Opportunity to review bilateral ties'
Meanwhile, India's External Affairs Minister S Jaishankar on Thursday said he reviewed ties with the United States and discussed global issues at a bilateral meeting with Blinken in New Delhi.
Pleased to meet US Secretary of State Secretary Blinken on the sidelines of the G20FMM, Jaishankar said after the meeting at the Rashtrapati Bhavan premises here. "Opportunity to review bilateral ties and discuss global issues," tweeted the external affairs minister.
Blinken arrived in the national capital on Wednesday night to participate in the G20 Foreign ministers meeting being held here today under India's presidency of the G20.
Earlier today Blinken took to Twitter to post, "I went to the #G20 today with two imperatives: First, to ensure that the G20 — with India at the helm — advances our shared goals, and second, to demonstrate how the U.S., together with our partners, is acting to meet the needs of the world. We succeeded at both."
"They will talk about our strategic partner partnership but really focus on how we're working together in the Asian Quad, in the G20, what we're doing on defence cooperation and the Initiative for Critical and Emerging Technologies that is being run out of the White House and the prime minister's office," Donald Lu, Assistant Secretary Bureau of South and Central Asian Affairs, had said.