If the G20 showed how skilful PM Modi has become on the international stage the summit also spotlighted things in Modi's India which did not portray the country in a good light, writes Mihir Bose
Narendra Modi's devoted followers presented him as the Vishwaguru, world leader, at the G 20 summit in Delhi and, although even the greats of Indian history would have been reluctant to claim such a grand title, there is no question that the old chaiwallah certainly shone on the world stage in a way few Indian leaders have. The conference could not have been better timed held just a month after India became the first nation to make a soft landing in the south polar region of the moon. Modi could claim the conference showed India has never had such a prominence on the world stage. And with some justification.
Gathered in Delhi were the leaders of the much-advertised free world queuing up to pay Modi homage, led by the man who heads the world's most powerful economy. Joe Biden, the American President, hurried to Modi's palatial home to see him and it is clear America would like to develop a close relationship, even an alliance, with India, which is a revolutionary change given for decades the US financed Pakistan making it almost a client state.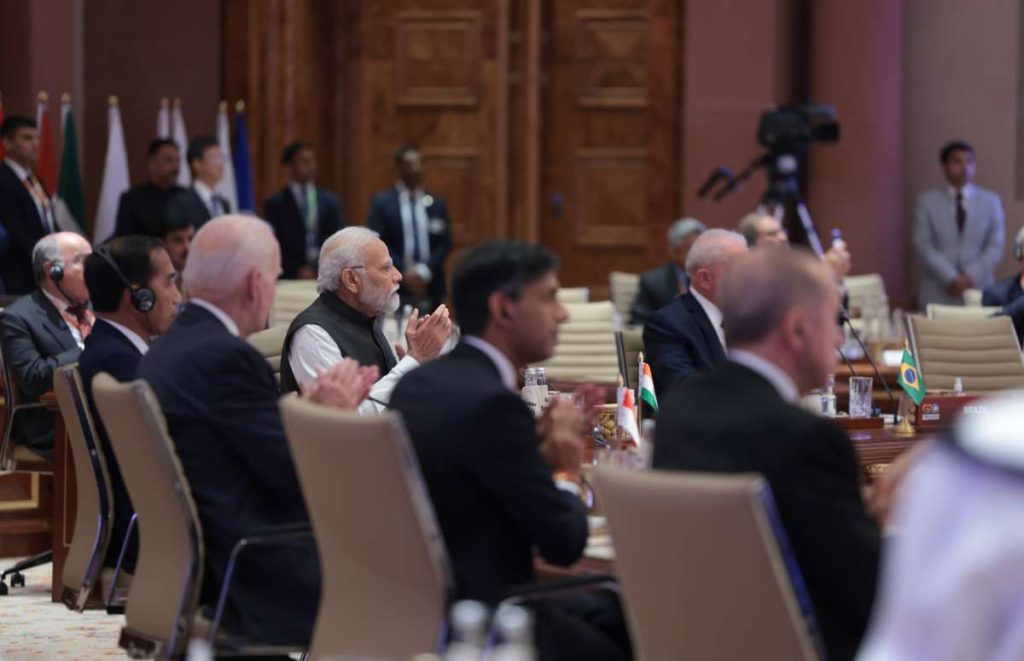 Modi also put Britain, the old colonial power which can never quite get over the fact that it had conquered and ruled India, in its place. For the first time the British had a prime minister of Indian origin with Rishi Sunak making much of the fact that he was like a son-in-law coming to visit his father-in-law. What is more this was also the first time the son-in-law had come since moving into No 10. Tradition requires that such a visit by the son-in-law should be regarded as the occasion for the father-in-law to go out of his way to welcome him. After all, had the son-in-law not married his daughter and therefore relieved the father-in-law of a great burden? But Modi, who in any case has no daughter, did not behave in that fashion. Sunak, who had hoped to have a private meeting with Modi, found he was, unlike Biden, not invited to the Prime Minister's residence. He and his wife were left playing football with some kids in the backyard of the British council. The son-in-law met his father-in-law but in the conference hall where the other G20 leaders had gathered. Modi was saying this British son-in-law was no more important than other world leaders. There could not have been a more emphatic put down of the son-in-law. Never has an Indian leader treated the old colonial master in quite such a cavalier fashion.
Modi was everywhere at the conference. His pictures plastered all over the city. Posters proclaimed a slogan nobody could possibly quarrel with, "One Earth, One Family, One Fortune". The conference also struck all the notes Modi wanted. There was a critical view of the Russian in attack on Ukraine, but the criticism was muted and worded in such a way, it did not say Russia had invaded Ukraine, that Modi in effect had his cake and ate it. His friend Putin was certainly not upset. That Ukraine was upset did not matter. The old chestnut of India wanting a place in the UN Security Council was again raised. It is unlikely to happen but that it was done in such a gathering means India's case is getting a high profile. However, if all this showed how skilful Modi has become on the international stage the summit also spotlighted things in Modi's India which did not portray the country in a good light. It called into question its much proclaimed status as the world's largest democracy let alone Modi's extraordinary claim that India was "the mother of democracy". In the days leading up to the summit the world's media reported on India's problems in a way it rarely does.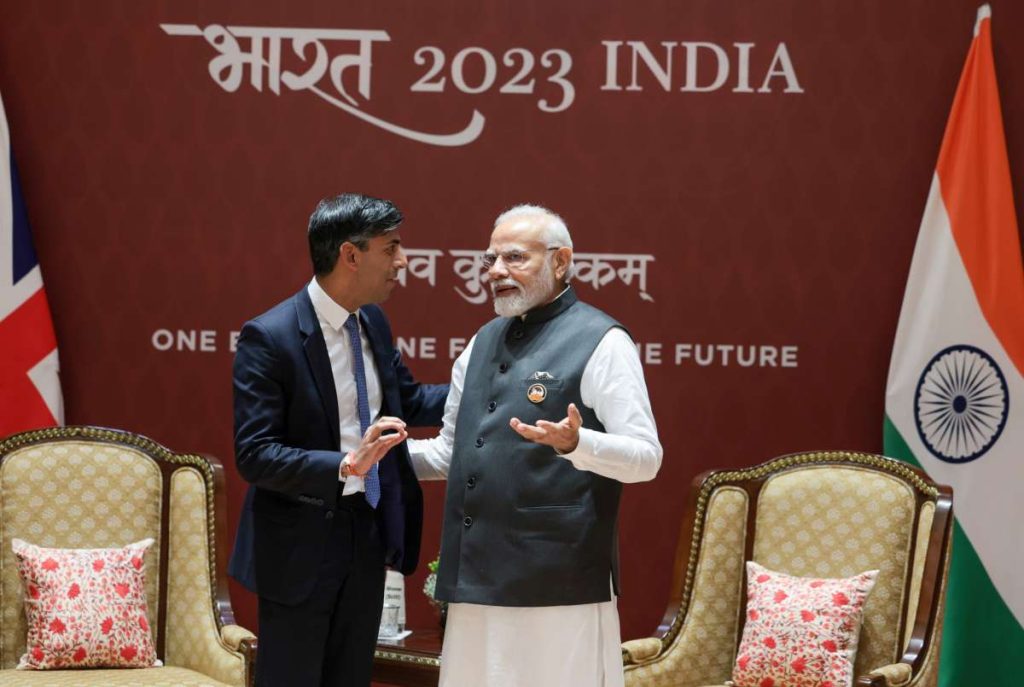 In order to make Delhi fit for the summit the city was closed down and the poor shunted into what amounted to an enclosed place so visitors would not see them. Slums that Modi did not want visitors to see were veiled with green curtains while policemen guarded thousands of potted plants trying to make Delhi look beautiful. Closing Delhi in this way made travel even for the distinguished visitors difficult with Sunak missing one of his appointments.
There was also in the days leading up the summit sickening religious violence between Hindus and Muslims around Delhi. In Nuh, 50 miles from Delhi, it was triggered by Hindu nationalists marching through what they see as little Pakistan resulting in riots which saw two policemen and three marchers killed. Acting in the manner in which the British often did in response to disorder there was collective punishment imposed on Nuh when, as the Times put it, "Muslim villagers stood by helplessly as their homes and shops were bulldozed by the authorities". It led to Muslim residents packing their belongings and leaving. There was also violence in Gurgaon which advertises itself as the home to multi-national companies. There Hindu mobs set alight a mosque and shot and stabbed to death the imam. The imam's brother said, "The police stood by as he was killed."
All this illustrates the dangerous contradiction of Modi's reign. There can be no question he has pioneered economic transformation. India is growing at 6% to 7%, faster than China which is slowing down, and changes such as the digital payment system appears to have eliminated the sort of low-level corruption by policemen asking for hafta, bribes, and by other government officials which has been such a bane of Indian life for decades. But as Catherine Philip, the Times writer put it, Modi's brand of strident Hindu nationalism, emphasised by now calling India Bharat, means the fault lines of India have deepened, "marginalising minorities, including Muslims and Christians as he seeks to transform the once-secular state into a Hindu nation."
There can be no doubt that Modi has given voice to the millions of Indians who for decades have felt the elite have shunned them. These are those who speak Hindi and other Indian languages and do not belong to the 15 per cent of the population who speak English and have been the elite since independence. As Gurcharan Das, the writer, puts it, "Modi has brought dignity to those lower classes. He is one of them, not the patronising elite. Imagine being deaf in your own country after 75 years of independence."
Growing up I was part of that elite, my friends still are, and we, I am ashamed to say, were deaf to the majority and looked down on them. This non-English speaking majority has risen with Modi their leader.
Some years ago, soon after Modi was elected, while researching my book From Midnight to Glorious Morning? I met Ajit Gulabchand, an old school friend of mine, at the exclusive Belvedere club in Bombay's Oberoi Hotel. As we sipped whisky he told me:
"I believe Narendra Modi is a very sincere man and a man of high integrity. He is not corrupt. His family is not involved in politics. He has told his wife she must stand on her own feet. He meets his mother once a year on his birthday. His brothers have nothing to do with him. He is spiritual in nature, having spent a few years in the Himalayas. I have wanted Narendra Modi's arrival for four years. I have confidence that the man will change India and for the better. He is going to bring a lot of order to this society. Fundamentally you have in Narendra Modi a very natural right-winger. I am not talking in terms of the Hindu business, I am talking of economics."
Ajit Gulabchand, is a very successful man, having constructed the Worli Sea Link, which has completely transformed the road I knew so well that takes you from the southern tip of Mumbai north to the airport. I have known Ajit since we were both around six years old, having been to the same school, St Xavier's, in Mumbai. Like Ajit many businessmen who voted for Modi did so not because they cared about the Hindu business but hoped that he would do the real business of improving Indian lives. However, the Hindu business is Modi's hinterland and has become clear this is now getting more dominant.
Violence between Hindus and Muslims is not new and took place even during the secular Nehru era but then the leaders condemned it. Modi stays silent. And therein lies the danger. He may have given voice to people who were marginalised, but he has also released forces which are dangerous, and these forces could prevent it becoming the world power it so desperately wants to be.
From Midnight to Glorious Morning? India since independence by Mihir Bose is available on Amazon.