New Delhi and Abu Dhabi planned to triple their food trade by 2025, riding on the decision to connect India farms with UAE ports, writes Shubhda Chaudhary…reports Asian Lite News
Since July last year, India, UAE, Israel and US have been working on the setting up a 'India Middle East Food Corridor (MEFC).' The decision was taken following a virtual meeting among Indian Prime Minister Narendra Modi, former Israeli PM Yair Lapid, UAE President Sheikh Mohamed bin Zayed Al Nahyan and US President Joe Biden.
The wheels of progress on the food security track began to spin almost immediately. The United Arab Emirates pledged to invest $ 2billion in India's food parks using advanced Agri-tech and clean energy technology would be deployed. The goals were ambitions. New Delhi and Abu Dhabi planned to triple their food trade by 2025, riding on the decision to connect India farms with UAE ports.
The MEFC would extend from India's Arabian Sea coast of Gujarat to Israel's Mediterranean coast, rivalling China's Maritime Sea Route under Beijing's hyper-ambitious Belt and Road Initiative (BRI). UAE is a willing partner, its enthusiasm buoyed following Pakistan's decision to move closer to Turkey at the expense of the Gulf.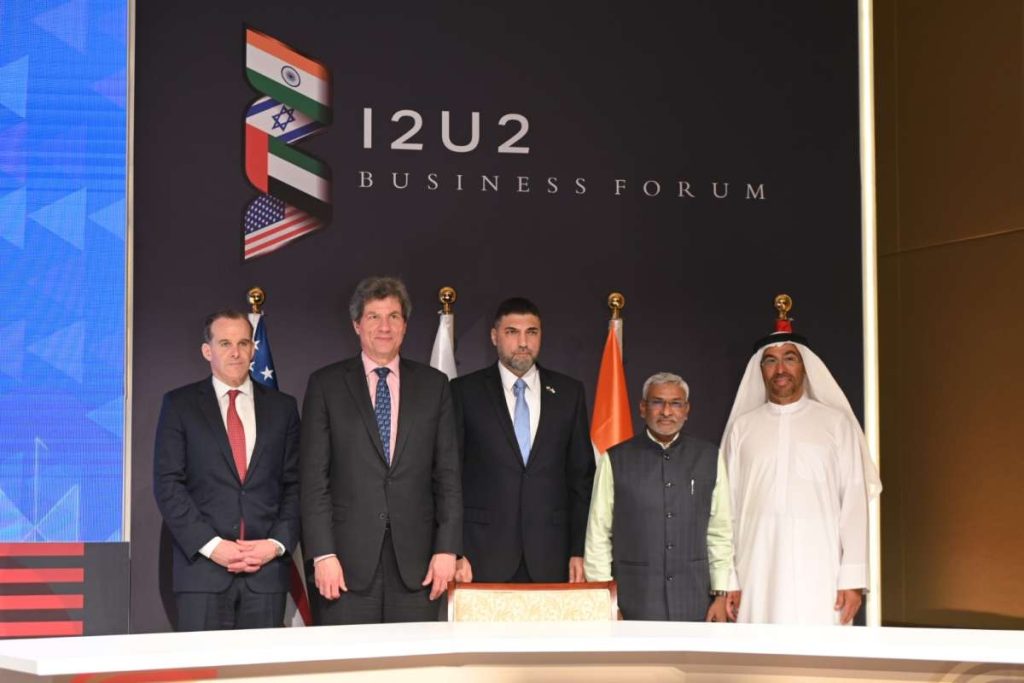 The agreement also includes the setting up of a 300MW hybrid renewable energy project in Gujarat. It would advance India's goal to 500GW of non-fossil energy by 2030. A feasibility study worth $330 million, funded by US Trade and Development Agency was granted to India's Shivman Wind Energy (from Jamnagar) with US EverGreen Power as its contract partner.
Historic ties between India and UAE
The formation of MEFC follows a gradual evolution of India-UAE ties that took root in 1972. Initially, India's bilateral ties with UAE featured economy, energy and expatriates. India-UAE trade which valued $180 million per annum in 1970s and increased to $68.4 billion in 2021 thereby making it India's third largest trading partner after China and US.
Within this span India began exporting minerals, food items, precious jewelry, textiles (yarn, cotton, synthetic, apparels, garments), chemicals and machinery products. In turn, India imported petroleum products, wood products, precious metals and chemicals for UAE. Indian expatriates also began to flood the UAE as ties blossomed. Today, they comprise almost 38% of UAE's resident population. This had a major economic impact, with Abul Dhabi contribution handsomely to India's foreign exchange reserves by way of expat remittances.
UAE also has big connectivity plans of linking Fujairah city, located on the Gulf of Oman with Mumbai. Apart from being a special economic zone, Fujairah is important from a geo-strategic perspective as it is located next to the Strait of Hormuz. It is also the world's third largest bunkering hub after Singapore and Rotterdam.
India's role as a major food-security underwriter, including as a provider of millets was highlighted at the Indian Pavilion during Expo2020 staged in Dubai, ending in March 2022. With 2023 declared as the 'International Year of Millets' by UN, India's pavilion themed as 'Food, Agriculture and Livelihood' UAE delegations interacted with representative of Grand Hypermarket, Al Dahra, Aqua Bridge, Choithram Group, RNZ Enterprises and others—companies that have been engaged in food imports from India.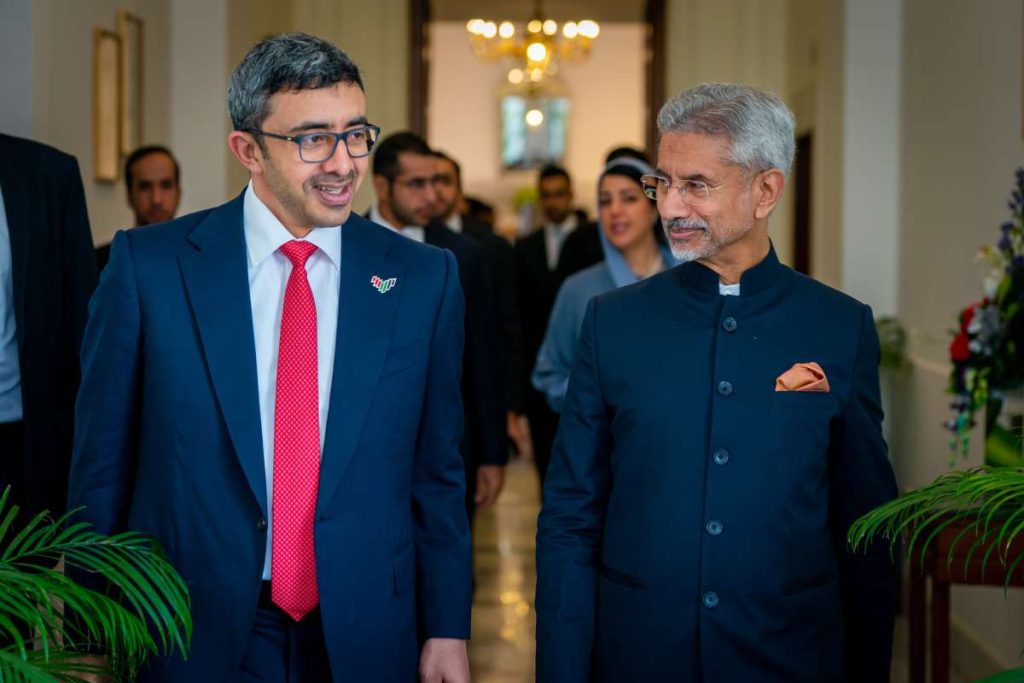 Already, UAE based companies such as Emaar Group, DP World, Sharaf Group, Lulu Group have started investing in Indian agricultural start-ups. DP World Cochin has also added new connectivity between Mina Jebel Ali port of Dubai with Chennai, Vishakhapatnam, Kandla, Tuticorin, serving as a natural gateway to industrial and agricultural products of South and Western coast of India. An agricultural trading platform 'Agriota' aims to link Indian farmers directly with UAE food companies, promising 2,00,000 jobs and benefit to 2 million Indian farmers.
Historic ties between India and Israel
India officially recognized the State of Israel on 17th September 1950. After the collapse of Soviet Union, the decades old non-alignment followed by India eventually ended. India's formal initiation of bilateral ties started in 1992 after India opened an embassy in Tel Aviv. The 2017 visit of PM Modi to Israel, decoupled from visit to Palestine, further fostered the defence, agriculture and technology relations between the two countries.
The Centre for International Agricultural Development Cooperation of Israel's Ministry of Agriculture and Rural Development and Centre for International Cooperation of Israel's Ministry of Foreign Affairs have aided in the implementation of Comprehensive Work Plan in Agriculture in India since 2006. The fourth phase of these three-year work plans were signed in 2017.
Out of the 29 Centres of Excellence in 12 Indian states of West Bengal, Bihar, Mizoram, Andhra Pradesh, Rajasthan, Punjab, Gujarat, Haryana, Karnataka, Maharashtra, Tamil Nadu and Uttar Pradesh, 25 have been commissioned. 1,50,000 farmers have also received training. In 2018, India's start-up Vyoda and Israeli Agri-startup Agrosolar Irrigating systems worked on innovative solar pumping techniques. Vyoda also set up a R&D centre in Tel Aviv and Mysuru.
Maharashtra and Haryana have benefited from the alliance, especially in canopy management, protected cultivation, nursery management, horticulture mechanisation and post-harvest management.
With the 'India Middle East Food Corridor', Israel's ADAMA Agricultural Solutions company has established a Research Centre in Hyderabad and plant in Gujarat. It would also aid the collaboration of Israel's Evogene and India's Rasi seeds Ltd, that are working since 2012 towards higher crop yield especially through bio-stimulants, fertigation and drought resistant seeds. Israel also aims to aid India in dairy farming, drip irrigation technology, micro-irrigation as well as renewable agricultural technology.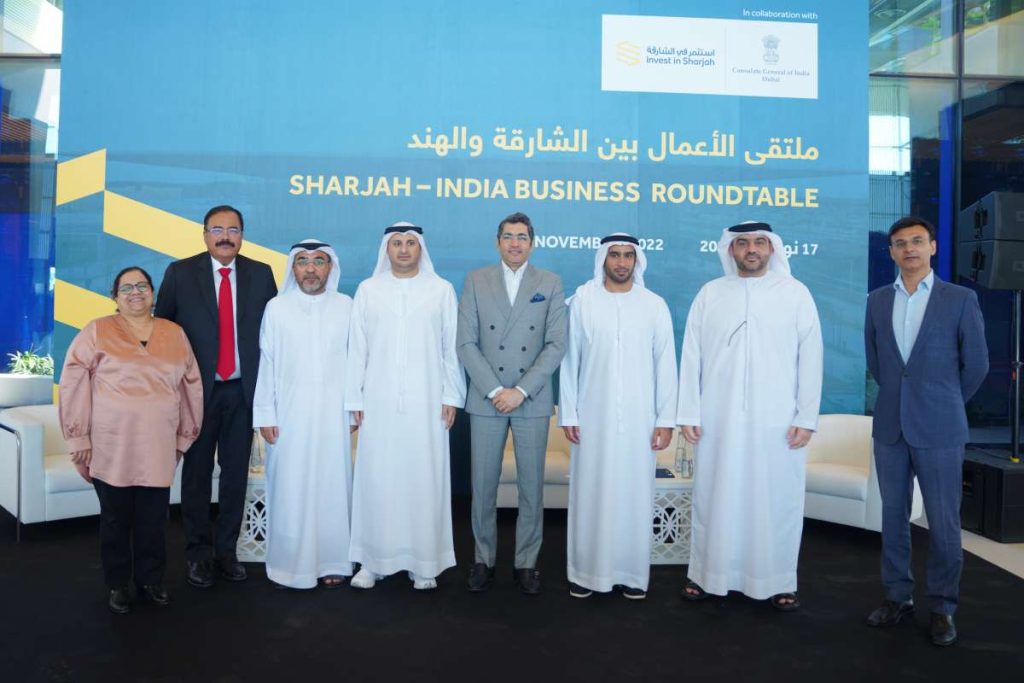 US role and shift in regional power dynamics
The chairing of US in the I2U2 summit can be seen as a move to create new trans-regional alliance instead of sponsoring the food security corridor. With the US slowly leaving West Asia militarily, this agreement therefore aims to create a new regional order, replacing geo-politics with geo-economics in West and South Asia.
US had played a key role in creating formal relations between Israel and UAE with the signing of the Abraham Accords in 2020. Therefore, Mohammed Suleiman of Middle East Institute has called 'India-Middle East Food Corridor' as the 'Indo-Abrahamic Alliance.' Meanwhile, as Pakistan tilts towards Turkey, UAE-Israel ties have flourished with the $3 billion Abrahamic fund aimed as trade, technology and energy. Both Israel and UAE are working towards creating a new Digital Regional Order through development of cyber capabilities.
Taking into consideration these regional developments in West Asia, India's vision of 'Middle East Food Corridor' will cement its position as food producer, especially after disruption of food supply during Covid and Russia-Ukraine conflict. The challenges of climate change, trade disruptions and volatile market pricing that often affects India's food produce would, hopefully, be eventually resolved.
(India Narrative)