The proceeds from the event were given to a community of weavers in Nanoor, West Bengal…reports Asian Lite News
Around 500 women are set to participate in a first-of-its-kind saree walkathon, which will be held in London to mark National Handloom Day on August 7, and raise awareness about Indian handloom.
The women, wearing the drapes representing different states of India, will walk past the iconic and historical landmarks on August 6, London-based news website UK Malayalees reported.
The walkathon will begin from Trafalgar Square and move to the historic Parliament Square in Westminster, London, via 10 Downing Street.
The event is organised by the British Women In Sarees group and is supported by the Inspiring Indian Women group.
"The modern Indian woman of today believes in traversing the world beyond her cocoon and she does all that and more, in a saree while redefining the codes of power dressing," Dipti Jain of British Women in Sarees group, which is hosting the event, told ukmalayalees.com.
"The British Women in Sarees group was formed out of this idea. It is a group of empowered women who take pride in flaunting handloom sarees and representing the unique cultural melting pot that is India. It is a not-for-profit organisation which likes to organise events to promote our National Heritage and make everyone around the world aware of the toil, handwork and artistry which goes behind weaving each of these masterpieces," Jain told the website.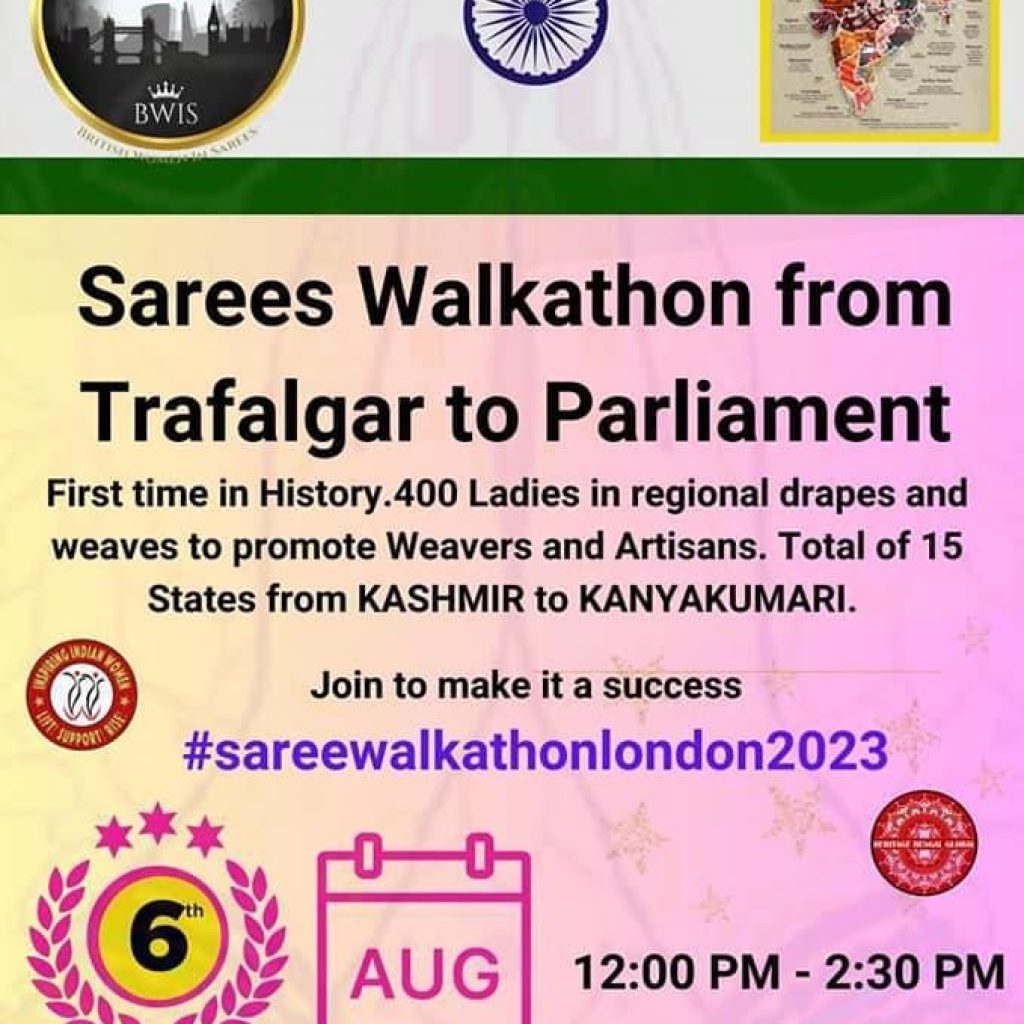 She had also organised the very first event at the Ladies Day Royal Ascot Races on June 16, 2022 in Berkshire, where several women from the Indian subcontinent turned up in sarees.
"As residents of UK, we felt elated and proud of the inclusivity that the stage provided us to pay homage to our roots, India. The world watched us but the limelight that our sarees fetched provided us the platform to raise awareness about the plight of artisans and weavers who need support to continue and pass on their craft to the next generation," Jain said.
The proceeds from the event were given to a community of weavers in Nanoor, West Bengal.
"As we grow bigger, we intend to reach out, grow and connect with more artisans and weavers who need support. This will be our way of preserving ancient handicrafts," she told UKMalayalees.
At the upcoming walkathon, a team of 30 women from Kerala will be showcasing the traditional settu mundu and handloom sarees bought directly from the weavers to support them.
They will also do a traditional Kerala dance at the Parliament Square before finishing off with a tribute to Mahatma Gandhi.
ALSO READ-London spikes Labour dreams