Sonam's brand lays focus on pieces that are durable and representative of a melting pot for ancient and contemporary craftsmanship…reports Asian Lite News
The prestigious talent discovery program, INIFD presents GenNext announced three promising new designers as the winners who will be showcasing their collections at the upcoming Lakmé Fashion Week in partnership with FDCI set to take place from 11-15th October in New Delhi.
GenNext, one of the most coveted and credible platforms in the Indian fashion industry for up-and-coming designers has established more than 250 designers who now represent the best of fashion in India as well as across borders. For its 36th edition, the winners declared are Arnav Malhotra (No Grey Area), Sonam Khetan (Sonam Khetan) and Prasoon Sharma (Triune).
Like each season, entries were invited for the GenNext program. The shortlisted designers presented their collections to a distinguished jury comprising Harman Dhillon, Vice President at Hindustan Unilever Limited; Sabina Chopra, GenNext Mentor; Mehernaaz Dhondy, Editor in Chief, Grazia India; Amit Aggarwal, renowned fashion designer and Jaspreet Chandok, Group Vice President, Reliance Brands.
The INIFD presents GenNext program has been recognized for identifying and providing young and talented designers an opportunity to enhance their skills and take centre-stage in the fashion industry.
Introducing the latest cohort of GenNext designers, Harman Dhillon, Vice President at Hindustan Unilever Limited said, "Embracing the future of fashion begins with the creative minds we discover and foster through the Gen Next program at Lakmé Fashion Week X FDCI. As we return toDelhi, this season's GenNext designers represent not only the resilience and creativity of a new era but also our commitment towards identifying, nurturing, and empowering young talents who will sculpt the future of global fashion with the transformative power of artistry. We are thrilled to spotlight the GenNext winners as they unfold their creativity, in line with Lakmé's vision as a fashion forward beauty brand with product lines and collection themes bringing forth a blend of fresh perspectives and avant-garde styles that will illuminate the path for the future of fashion."
Talking about the GenNext program Jaspreet Chandok, Group Vice President, Reliance Brands said, "The GenNext program offers outstanding young talent in the country a prestigious platform like ours to debut and showcase their work to industry leaders in a competitive fashion environment. For a decade and more, this initiative has successfully introduced remarkable designers, some of whom have achieved recognition in both the Indian and global fashion arenas. From the highly promising entries, the winners of the 36th batch of GenNext designers have been carefully selected, and I am excited to witness their growth and success in the fashion industry."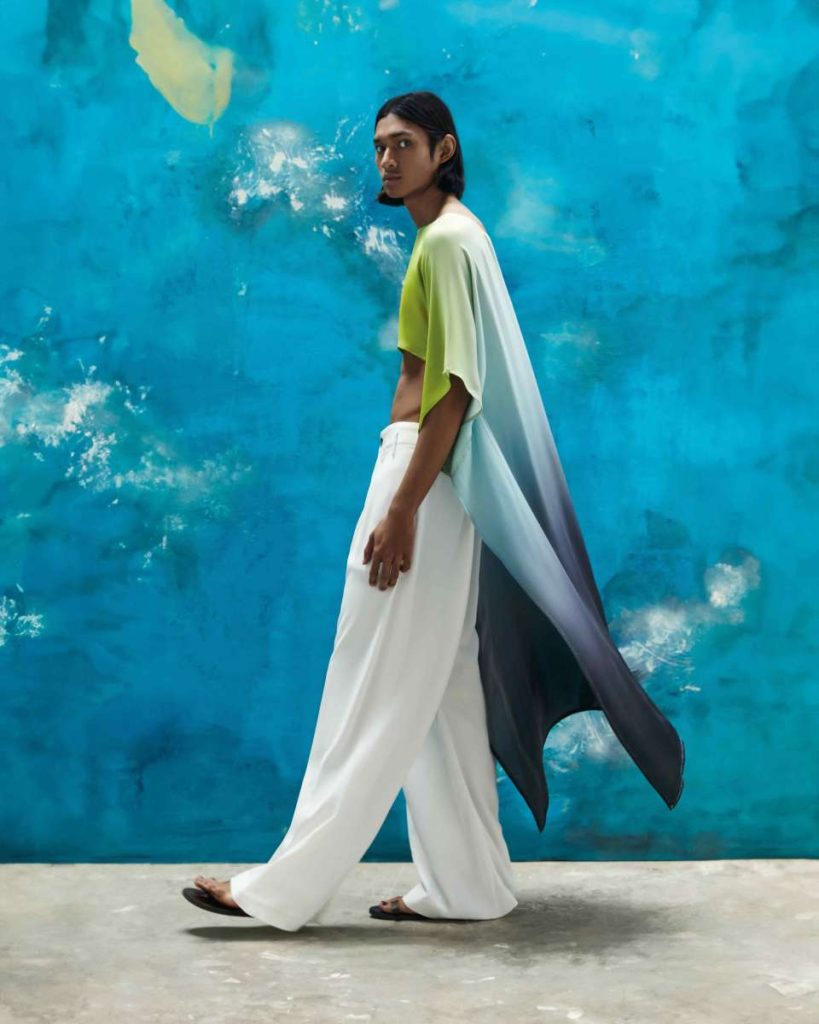 36TH BATCH OF GENNEXT DESIGNERS:
Designer Name: Arnav Malhotra
Brand Name: No Grey Area
Age:28
City: Chennai
Arnav Malhotra is an alumnus of the University of Exter and is currently pursuing his passion in the fashion industry. His previous stints include working with brands like Evoluzione and Evolve Clothing Pvt. Ltd.
The new age statement pieces from Arnav's 'Inconvenience today for a better tomorrow' collection is influenced by solving fabric waste issues at the design stage and a particular focus on zero-waste pattern making. The collection features silhouettes and fabrics inspired by the saree. The Kolam, which can be seen across the garments of this season as block prints, embroideries, and jacquards, is an art form that decorates the entrances of homes in India to balance energy.
The colours of the collection are inspired by the bright colours on old Madras homes, which influenced Memphis architecture. Oversize shisha mirror embroidery, carved wood block printing, an oversized Madras check and 3-colour ombres enrich a gender-inclusive range that blends Indian tradition with contemporary luxury.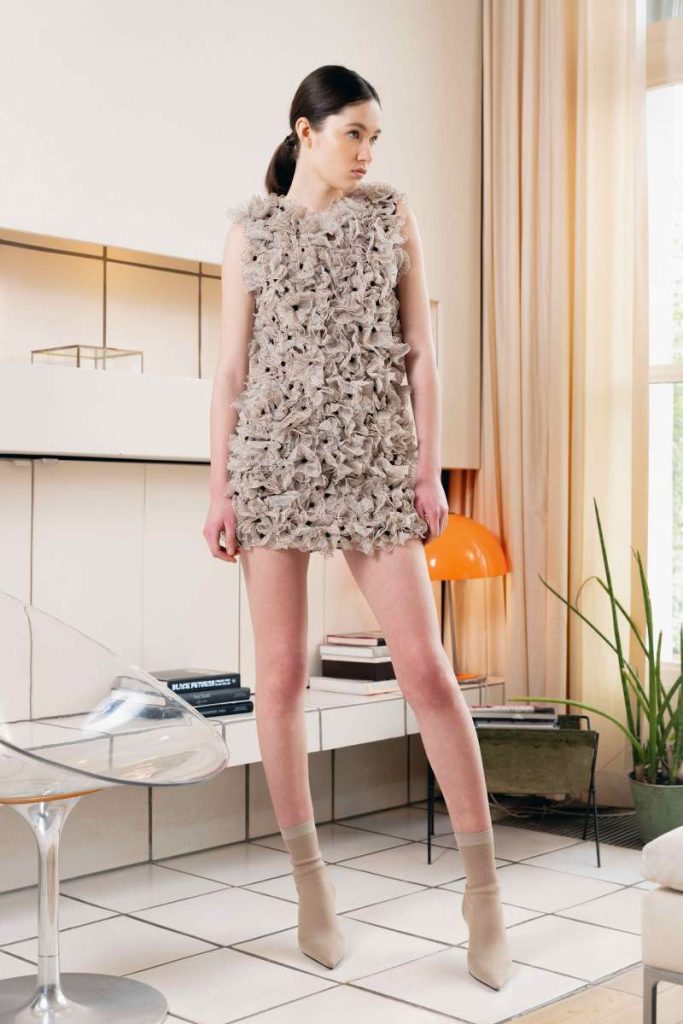 Designer Name: Sonam Khetan
Brand Name: Sonam Khetan
Age:34
City: New Delhi
Sonam comes with a fashion background with education from NIFT, Istituto Marangoni and Central Saint Martins. In her two-year experience in the industry, she has worked with Balmain, Rahul Mishra, Ludovic De Saint Sernin, to name a few.
Sonam's brand lays focus on pieces that are durable and representative of a melting pot for ancient and contemporary craftsmanship. She believes that the driving force for her pieces is the time invested in exploring scientific findings and research. Holding a firm belief in increasing awareness for social and environmental issues, each collection from Sonam Khetan tells a story that highlights nature and the environment.
A visual representation of the sounds of the Earth, her collection titled 'Sight of Sound', portrays the interpretation of sounds from the perspective of scientists, artists, and Buddhists. The collection is made from all natural fabrics like- linen, hemp, khadi cotton, organic cotton and silk. The pieces have been curated with the help of a women-led artisanal studio that specialises in naturally hand-dyed material made from recycling flowers from ancient temples, and an NGO that specialises in the Japanese Shibori technique. Sight of Sound stands out for its emphasis on hand embroideries, wearable flexibility and surface manipulations.
Designer Name: Prasoon Sharma
Brand Name: Triune
Age :30
City: Jaipur
Prasoon is an alumnus of INIFD. With 3.5 years of experience in fashion, Prasoon's brand, Triune has been admired and worn by several Bollywood stars.
Described as a portal to nature, his collection titled 'Bivouac' transports one into a world void of interruptions. Beautifying imperfections, being raw and untouched are an accurate description of the emotions the collection captures.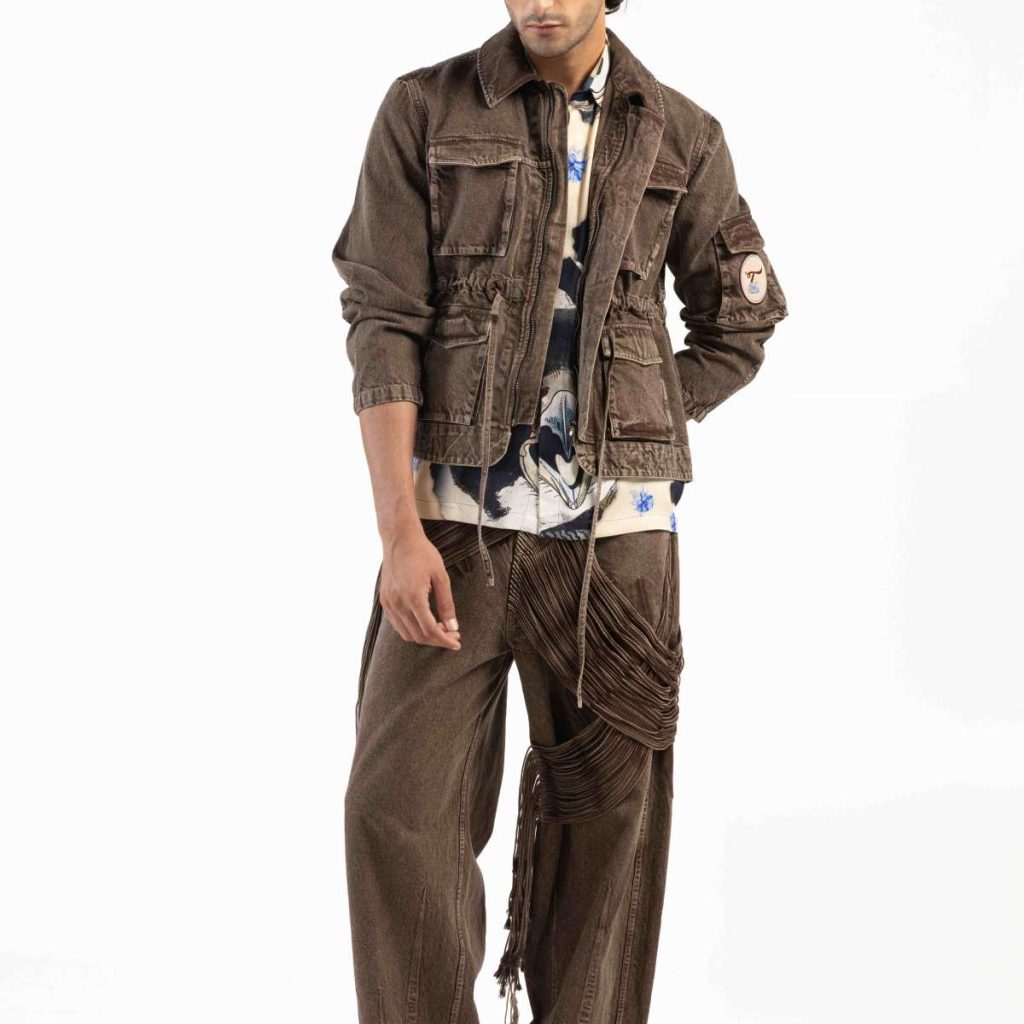 Bivouac integrates earthy greens, natural browns, vivid accents, animal motifs and prints with natural patterns found in forests. Different elements of the collection are a reminder of the need for equilibrium and co-existence between the environment and humans.
Several techniques have been incorporated to create the final product. Hand braiding and hand nesting has been used along with dori work to get the texture of rawness of nature. Unique ways have been used to achieve the denim looks for the collection. In addition, there has been use of screen printing to make accurate patterns, and digital printing was utilized to generate intricate and sophisticated imageswith a broad range of colors and effects. The collection uses a range of fabrics like Tencel Dobby, Tencel Satin, Ecru Denim Twill, Cactus textured handwoven cotton and TNT Khadi to accentuate the look of the collection.
ALSO READ-Gaurav Gupta's custom creation dazzles as Beyoncé takes the stage