It's been a culmination of months of getting the product into the UK and soon will be available in Europe, reports Rahul Laud
Gianna's Cashew Apple Feni is due to be launched in the UK by the end of October'23 and should be available across via retail distribution channels or online stores in the United Kingdom. It's been a culmination of months of getting the product into the UK and soon will be available in Europe. This famous tipple from Goa, India will now be available in its classic version of 750 ml with an alcoholic strength ABV – 42.8% informed London based Karl Da Costa – BSSG UK Ltd responsible for getting the Indian product in the UK market.
Feni comes from the Sanskrit word 'Fen' which means froth, a very distinctive character of Gianna's Cashew Apple Feni. Brian Marchon from Pickval Traders (Goa, India), the manufacturer, has been modifying the final product to meet international standards while maintaining that local distilled flavor.
Brian Marchon states "We have never been so proud and honored to finally showcase India's only GI spirit (Feni) into the European market. Currently, we are in negotiations to supply in Canada and Australia, but I think we will be in New Zealand sooner."
Karl Da Costa, BSSG UK Ltd. echoed "We are truly excited as in the next coming days we will finally have Gianna's Feni in the UK. I take this opportunity to thank Brian and his team at Pickval, for entrusting us with Gianna's Feni and working with us along the way."
Karl highlighted that although there are a few challenges – the cost of living crisis, non-duty products, and distribution; they are optimistic and excited, as it's the only Feni product officially available currently with a few more products in the pipeline like Feni infused liqueurs.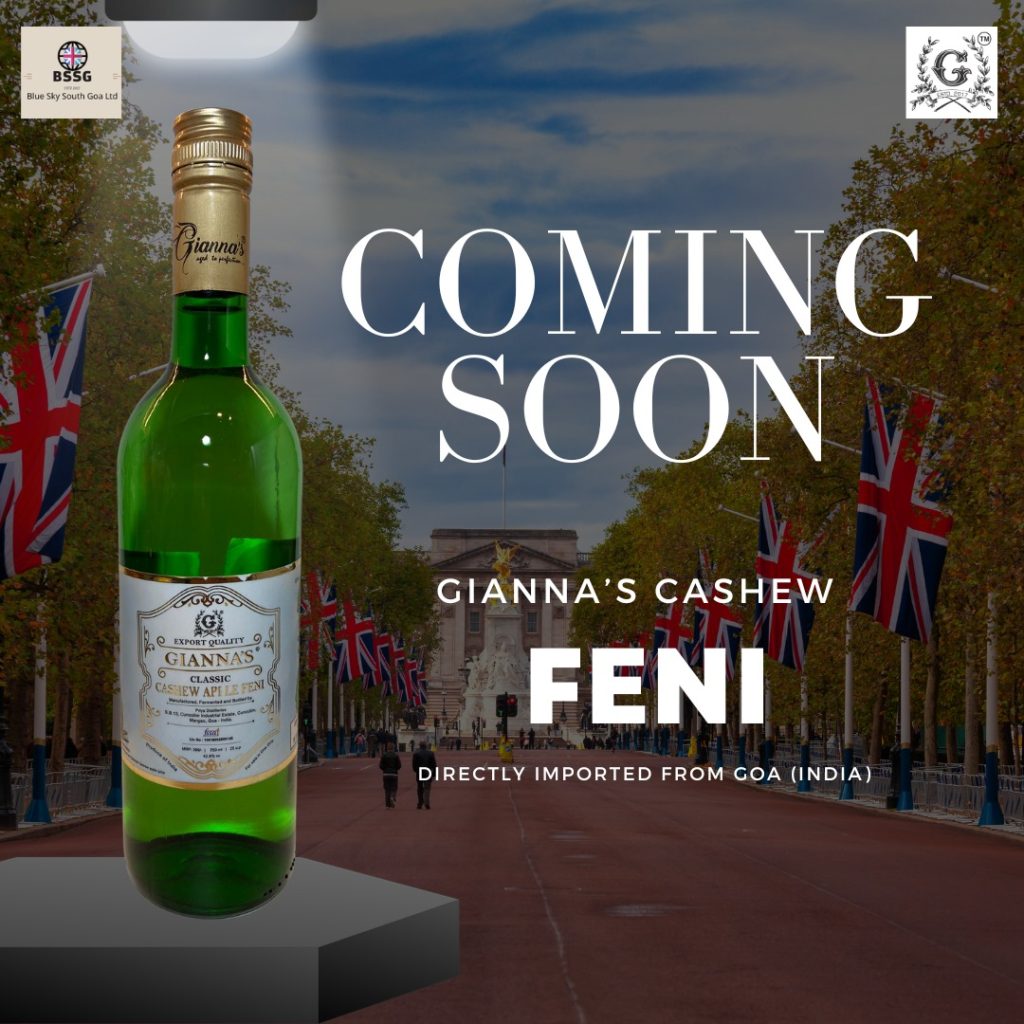 Established in 1974 by Cajetan Marchon, Pickval Traders Started business by being appointed the Sole distributor in Goa for leading brands like Aristocrat Premium Whisky, and Bonnie's Scotch Whisky, By the year 2000 Pickval Traders had grown its distribution network across Goa & was appointed the sole distributors for Sula wines which is today considered the number 1 premium wine in India.
In 2008, Pickval Traders expanded its distribution Portfolio and was appointed the sole distributor in Goa for Brown Forman Worldwide LLC, including Jack Daniel family collections, Gentleman Jack, Jack Daniel Single Barrel Select, Woodford Reserve recently launched Jack Daniel Fire, and Jack Daniel Honey. Also leading Tequila from Mexico i.e. El Charro Tequila Silver; Gold which is leading in the Goa market is appointed distributor in another state too. Pickval Traders also handles the duty-free business of Remy Cointreau, VSOP's Remy Brands in Goa. Pickval Traders are sole distributors for Brindco Sales Pvt Ltd offers International wines from Chile, Spain, Argentina, New – Zealand, South Africa, Australia, and Italy. Recently taken up distribution for Smoke Classic Vodka Aniseed Vodka of N V Distilleries Pvt Ltd Patiala Punjab; imported Beer from Bhutan known as "Konigs", Montblanc Label Lager Beer 325 ml amber pint which was known as "Kings" black label earlier.
Cajetan Marchon was joined by his son Brian Marchon in 2011 who has since taken over the business; and expanded it further by diversifying into distribution of the world's most famous sparkling Carbonated water "Perrier" the leading premium franchise right of Haagen Daz ice cream for Goa imported from France.
In 2017 Pickval Traders started Manufacturing, and exporting their family labels i.e. "Gianna's" and currently offer Gianna's de premium Port wine & Gianna's classic Cashew Feni. These are currently being distributed & retailed across Goa state & also available in most of the leading five-star hotels, fine dining, clubs, etc.
Pickval Traders has already launched in Dubai which is now available at Barracuda in Dubai (UAE)  and recently made available at retail stores at African, Eastern in Ras Al Khaimah, Fujairah (UAE).
ALSO READ: Goan Association North West Hosts World Goa Day Celebration in Manchester