One would expect the director to be upbeat about the attention he draws to the Valley, but he tells that he feels bereft after making it, as he does not know how many people it will reach. ..writes Sukant Deepak
In the bleak cold of Kashmir, Nargis' gaze cuts right through. The atmospherics scheme with her tragedy and silences become a partner to reveal the conflict that is not just external.
National award-winning filmmaker Aamir Bashir's latest film 'The Winter Within', that was screened during the latest edition of the Dharamshala International Film Festival (DIFF), premiered at the 27th Busan International Film Festival and revolves around Nargis (Zoya Hussein), a domestic help whose husband Manzoor has been picked by the security forces and is 'missing'. Forced to return to her village as a 'half widow', in a subversion to the Greek Penelope, where she weaves an intricate Kani shawl awaiting her husband's return, she is unable to move on despite the attention shown by the weaving workshop owner Yaseen.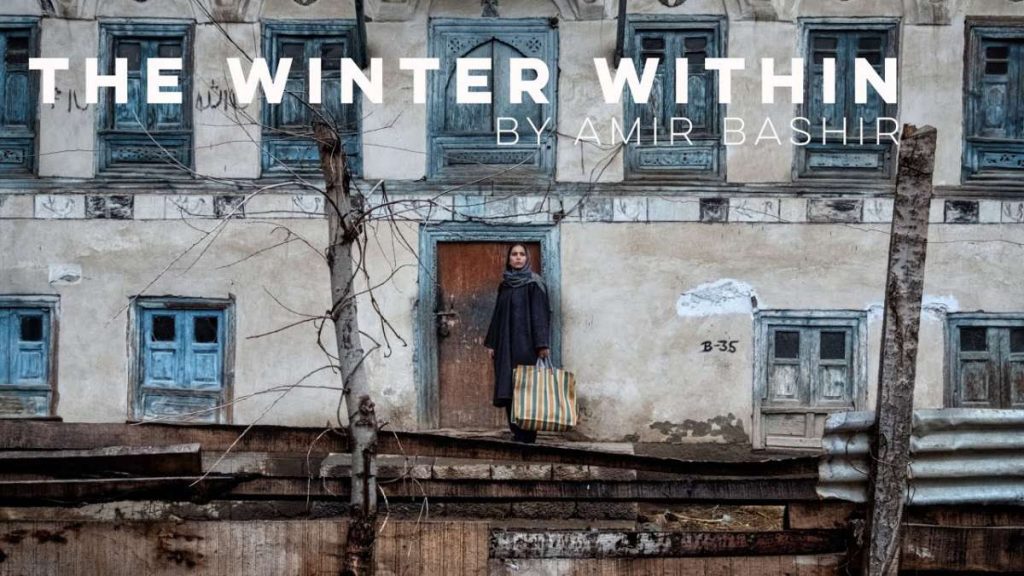 One would expect the director to be upbeat about the attention he draws to the Valley, but he tells that he feels bereft after making it, as he does not know how many people it will reach.
"I do begin to question myself as we are in these bubbles where like-minded people turn up at festivals, but does it change anything on the ground? I am quite pessimistic. Frankly, I have been banished by many for talking about the contemporary social and political scenario around us. Even when I was studying in a college like St. Stephen's, students aroud me would talk about how the Army should be given a free hand to fix things."
Stressing that for him, making a film like this is about taking an individual stand, he does believes, "The only way Kashmiris can draw support is by telling their stories even if they are in whispers."
Not considering himself an insider despite being from the Valley, the actor-director, who shot to prominence with his roles in 'A Wednesday' and recently in 'Sacred Games' and 'Inside Edge', says that he has lived in Kashmir for more than 30 years now, and the distance has brought a perspective that is objective.
"Of course, there is a part of me that still remains an 'insider' for I do feel the many assaults. But I must add that there are very few people willing to tell the story, and fewer who want to receive it."
While his directorial debut film 'Harud' that premiered at the 2010 Toronto International Film Festival won the National Film Award for 'Best Urdu Feature Film' at the 60th National Film Awards, he is still reluctant to call himself an artist.
"Filmmaking was never planned, and it was mainly the situation in Kashmir and the fact that the narrative was not in the Valley's control, that pushed me to make these films."
It need not be said that getting funds for a film like this is seldom easy.
"This one has been in my mind since 2011. People do question why such a movie needs to be made, many do not have an idea about the ground situation in Kashmir. So more than spending energy on making the film, I need to thoroughly explain about the situation there," he says.
Talk to him about this time of democratication of technology when young Kashmiri musicians are making music about issues there, and using social media for distribution, and he feels filmmaking is much more difficult as one needs an elaborate infrastructure to tell a story.
"Yes, there are rap artists who are staying more true to themselves as a Kashmiri voice, but the masses do not really get to listen to them — you need a studio and a label. The same is with films, even if something is made — where will it reach?" he asks.
Initially, he had planned a trilogy — Autumn ('Harud'), Winter ('The Winter Within') and Spring.
"But I am still grappling — is there a point? I really do not see the possibility of the movie on Spring. But it can be a fantasy, no…?"
ALSO READ-SPECIAL: Recall the Kashmir massacres of 22 October 1947