This came at a time when two years have passed since the Taliban ban on education rights of Afghan girls….reports Asian Lite News
Amnesty International has called on Taliban to take immediate steps to reopen secondary schools for girls in Afghanistan, according to TOLOnews.
Amnesty International noted that the future and hopes of thousands of Afghan girls are at stake, adding that the prohibition on girls' admission to secondary education in Afghanistan has been in place for two years.
This came at a time when two years have passed since the Taliban ban on education rights of Afghan girls. Notably, it was on September 18 2021 when the de-facto authorities had banned girls from attending secondary and high schools in Afghanistan, reported TOLOnews.
According to UN Secretary-General António Guterres, September 18 commemorates two years since females were prohibited from entering high school in Afghanistan.
Guterres went on to say that this is an unjustified violation of human rights that would have long-term consequences for the whole country. Girls, according to the UN Secretary-General, belong in school."Let them back in," urged Guterres, according to TOLOnews.
Afghanistan, a country heavily reliant on aid, lost Western donor support with the Taliban's return to power following the US and NATO pullout in August 2021.
The Afghan economy swiftly collapsed, forcing self-sufficient Afghans to seek humanitarian aid to survive. Because of widespread human rights violations, the Taliban's regime has been under international isolation.
Notably, with the resurgence of the Taliban in August 2021 in Afghanistan, the country's educational system has suffered a significant setback. As a result, girls have been deprived of access to education, and seminaries or religious schools have gradually filled the void left by schools and universities.
Afghanistan's women have faced numerous challenges since the Taliban returned to power in 2021. Girls and women in the war-torn country have no access to education, employment and public spaces.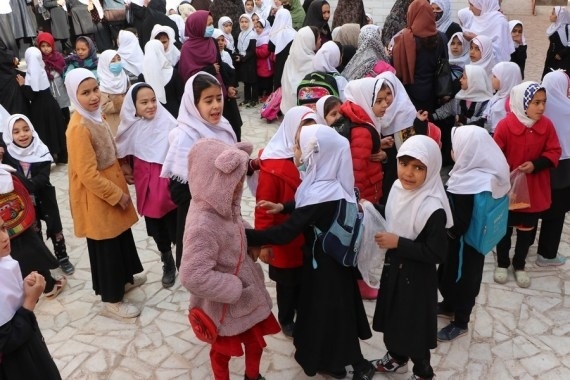 Worst educational conditions
Highlighting the damage that has been done to the education system since the return of Taliban in Afghanistan, Maleiha Malik, Executive Director of Protect Education in Insecurity and Conflict (PEIC) said that the country is on the list with the worst educational situation, Tolo News reported on Friday.
Malik noted that education in Afghanistan has been damaged by the "state actors and armed non-state actors", adding that new barriers to education in Afghanistan are still challenging.
"There are some persistent countries that come in that list, Afghanistan was on that list persistently. And in Afghanistan attacks on education from all sides not only state actors but also armed non-state actors were prevalent," Tolo News quoted Malik as saying.
She added, "And I think what happened particularly with the media is that the armed non-state actors became more prominent, and it was hard sometimes to see that state parties were also causing massive destruction. The new barriers to education in Afghanistan are still challenging".
Responding to this, Taliban spokesperson, Zabihullah Mujahid, said the Islamic Emirate is "committed" to ensuring Afghan girls have the right to an education. He, however, declined to comment further on the education of females in Afghanistan.
"The Islamic Emirate of Afghanistan did not say that we will not stop education, but it has been suspended for a while and the work is going on with it," Tolo News quoted him as saying.
However, despite the unsubstantiated and tall claims of the Taliban, a startling 80 per cent of Afghan girls and young women who are of school age are currently denied access to education under the Taliban regime in Afghanistan, a new report by Care International stated, according to Khaama Press.
It has been more than two years since girls above grade six have been prohibited from attending school in Afghanistan, and it is unclear when those doors will reopen, Tolo News reported. (ANI)