Filmmaker SS Rajamouli's magnum opus 'RRR' bagged the Best Original song trophy for its song 'Naatu Naatu' at the 2023 Golden Globes2023 Golden Globes.
India is all set to bring in the Golden Globe 2023 home as the song 'Naatu Naatu' from S.S. Rajamouli's magnum opus 'RRR' won the Best Original Song, Motion Picture at the 80th Golden Globes.

'Naatu Naatu' was in competition with 'Carolina' from "Where the Crawdads Sing", "Ciao Papa" from "Guillermo del Toro's "Pinocchio", "Hold My Hand" from "Top Gun: Maverick," "Lift Me Up" from "Black Panther: Wakanda Forever".

To receive the honour was music composer M. M. Keeravani, who was accompanied with his wife Srivalli.

He dedicated the award to Rajamouli and the actors Ram Charan and NTR Jr.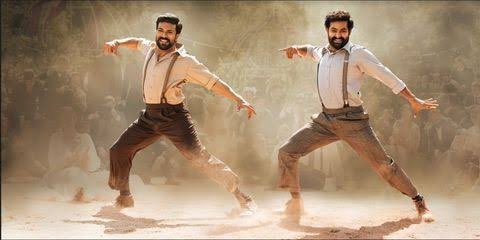 While accepting the award, he said: "Thank you very much for this prestigious award: "This award belongs to SS Rajamouli for his vision, I thank him for constantly believe and supporting my work. N.T. Rama Rao and Ram Charan who danced with full stamina."

'RRR' stars NTR Jr., Ram Charan, Ajay Devgn, Alia Bhatt, Shriya Saran, Samuthirakani, Ray Stevenson, Alison Doody and Olivia Morris.
It centres around two real-life Indian revolutionaries, Alluri Sitarama Raju and Komaram Bheem, their fictional friendship and their fight against the British Raj.
Set in the 1920s, the plot explores the undocumented period in their lives when both the revolutionaries chose to go into obscurity before they began the fight for their country.
'What more can an actor ask for?': NTR Jr
RRR may have lost the Golden Globe for Best Motion Picture (Non-English), but the 'RRR' team still has much to celebrate. And celebrate NTR Jr will.
Talking to 'The Hollywood Reporter' on the red carpet, looking dapper in a tuxedo and bow tie, with wife Lakshmi Pranathi also in black, the 'RRR' star said: "It can't get any better than this. The West accepting us … America, the Mecca of filmmaking … here we are at the Globes. What more can an actor ask for? … We are truly honoured, truly honoured."

When asked about the ecstatic audience response to the 'RRR' screening at the iconic TCL Chinese Theatre in LA, NTR Jr, after noting how a visit to the century-old cinema was on his bucket list, said: "It blew my mind … That reaction yesterday was nothing less than the reaction back home. People were dancing, people were yelling, people were shouting and screaming. I just loved it, I just loved it."

He added: "Audiences accepting 'RRR' is a very big award altogether. We'll be truly blessed … It'll be our pride."

And what did he plan to do after the awards ceremony was over? With his wife beaming in the background, NTR Jr said: "I just want to relax … chill. Yes, I am going to unwind a little bit."
Ram Charan's excitement
After Golden Globe win, actor Ram Charan took to social media to express his excitement.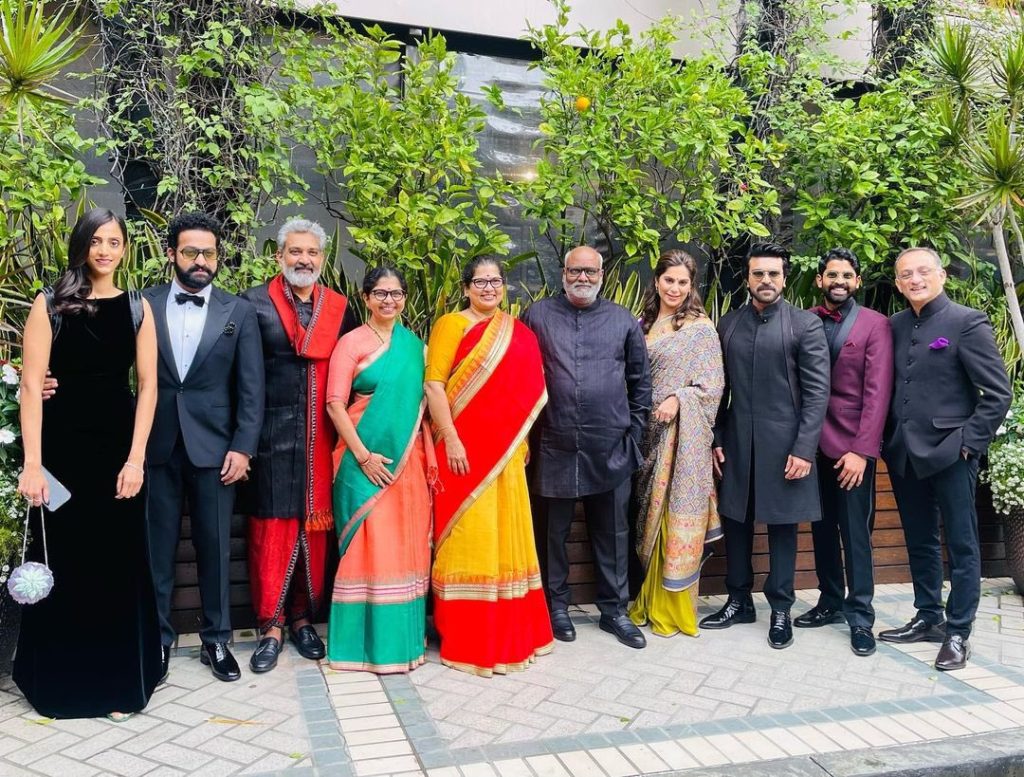 Ram took to Instagram, where he shared a picture posing with filmmaker S.S. Rajamouli, NTR Jr and music composer M.M. Keeravani.

He wrote: "& WE WON THE GOLDEN GLOBES."
"Where will I put my trophy? In my heart!"
"Where will I put my trophy? In my heart!" With these words S.S. Rajamouli ended his chat with 'The Hollywood Reporter' on the Golden Globes red carpet.

Looking very patrician in his black dhoti and kurta, with a red-bordered back shawl, Rajamouli responded to the anchor reacting to the scenes at LA's iconic Chinese Theatre the previous night, where the audience started dancing to 'Naatu, Naatu' on the aisles.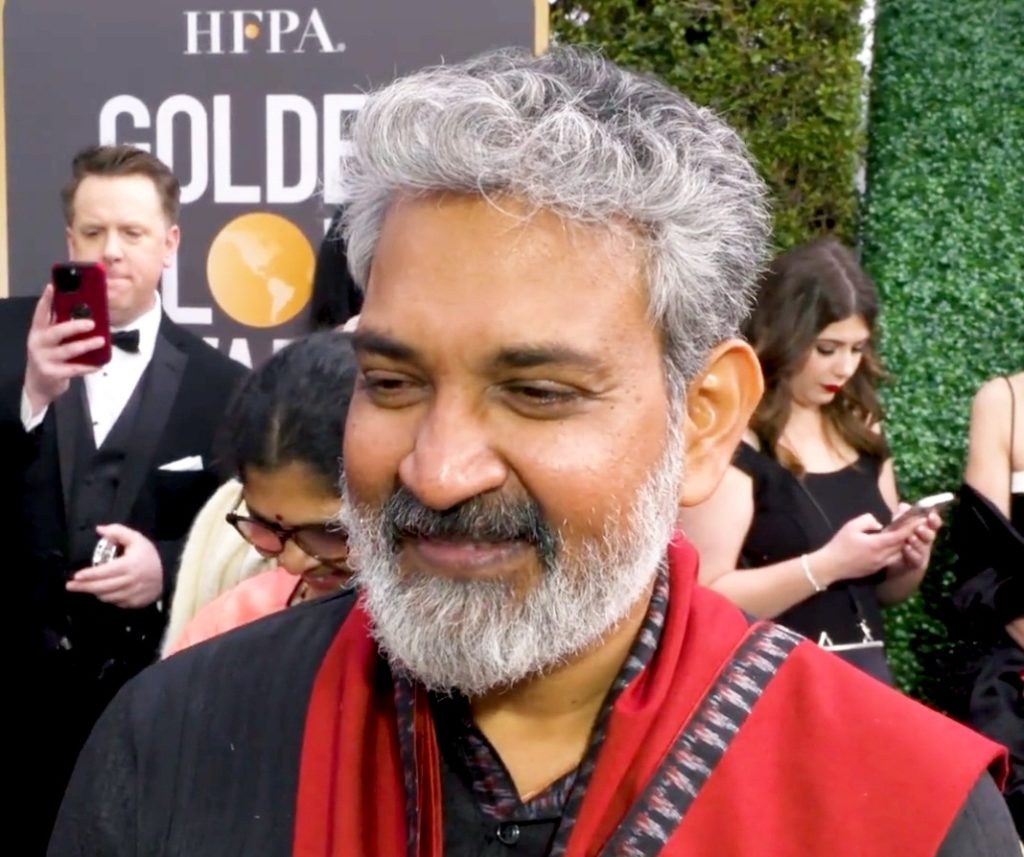 "Isn't that great? To take the audience out of their seats and make them dance," Rajmouli said. "I think it comes from the joy of film watching."

He noted: "I don't think America has ever seen that kind of reaction from the audience. Back in India we do. … Humans are humans across the globe wherever they are."

Talking about the attention RRR is getting and the Oscar season buzz it has created, Rajamouli said: "It really feels great. In India, we make thousands of movies but we hardly get any recognition outside our country. If it puts the spotlight on our films and helps our filmmakers take our stories to the world, it'll be really great."
And who'll be partying after the show? "My stars, R and Charan, they'll be having the most fun," Rajamouli said. "I'm usually the guy who's tensed up about whether everything is going to happen properly … and on time."
'Incredible, paradigm shift': A.R. Rahman
Music composer AR Rahman, who was the first Indian to win a Golden Globe in Best Score category for the 2009 film 'Slumdog Millionaire', congratulated the team of 'RRR' for bringing home the 80th Golden Globe award for the song 'Naatu Naatu'.

Rahman took to Instagram, where he shared a clip of Jenna Ortega announcing 'Naatu Naatu' as the winner in the Best Original Song in Motion Picture category.
He tweeted: "Incredible ..Paradigm shift Congrats Keeravani Garu from all Indians and your fans! Congrats @ssrajamouli Garu and the whole RRR team!"
Xxx
'India is proud of you': Chiranjeevi
Telugu Mega Star Chiranjeevi, a.k.a. Ram Charan's father, reacted ecstatically to the Golden Globe for 'Naatu Naatu'.

He took to Twitter to say: "What a Phenomenonl Historic Achievement!!!! Golden Globes Best Original Song – Motion Picture Award to @mmkeeravaani garu!! Take a Bow! Heartiest Congratulations Team @RRRMovie & @ssrajamouli!! India is proud of you! #NaatuNaatu

Even as congratulatory tweets poured in, the words of the revered 'Rolling Stone' magazine suddenly took on a whole new meaning: "RRR is the best — and most revolutionary — blockbuster of 2022.." it said. And specifically about 'Naatu Naatu', it said: "… the dance sequence feels like a Gene Kelly number dialled up to superhuman levels."
ALSO READ: 'RRR' = 'Rise Roar Revolt'= Simply Rajamouli Magic