The 42nd annual Sharjah International Book Fair opened its doors with 2,033 publishers and exhibitors from 108 countries showcasing 1.5 million titles.
Creatives and creators from 108 countries converged at the Expo Centre Sharjah on Wednesday, marking the commencement of a cultural odyssey that will span 12 extraordinary days during the 42nd edition of the Sharjah International Book Fair (SIBF 2023). Joining them are publishers, distributors, translators, and bibliophiles, surrounded by more than 1.5 million titles from seven continents, uniting in this global literary celebration.
SIBF 2023, themed 'We Speak Books,' offers visitors a unique opportunity to traverse time and space. This year, the international event celebrates South Korea as the Guest of Honour, presenting its rich cultural heritage and contemporary contributions alongside 2,033 publishers representing their respective nations, showcasing their intellectual and creative works in Sharjah.
2,033 publishers, 1.5 million titles
This year, 1,043 Arab and 990 international publishers will present over 1.5 million titles, including 800,000 in Arabic and 700,000 in other languages at SIBF 2023. The UAE leads the list of Arabic participants with 300 publishers showcasing their latest works, followed by Egypt with 284, Lebanon with 94, and Syria with 62. On the international front, publishers from India, the UK, and Turkey top the list of participations.
Emirati and Arab guests
SIBF 2023 is hosting prominent Emirati writers, thinkers, and poets, including distinguished figures such as poet and researcher Khaled Al-Badou, author Dr. Mashael Al Nabooda, author and journalist Adel Khozam, author and journalist Mohammed Al Jokar, researcher and author Suad Al-Araimi, author Fathia Al Nimr, author Dr. Aisha Al-Ghais, author Saeed Al Badi, and others.
From the Arab world, SIBF 2023 welcomes Libyan writer and novelist Ibrahim Al-Koni as the 'Cultural Personality of the Year', Algerian writer and novelist Ahlam Mosteghanemi, Egyptian novelist and screenwriter Ahmed Mourad, Dr. Mohamed El Ghandoor, Kuwaiti author Bothayna Al Issa, Tarek Emam the critic and the Egyptian poet, Lebanese poet Talal Haydar, Egyptian poet and author Nour Abdel Megiud, Egyptian media personality Reham Ayad, and writers Sarah and Hagar Abdul Rahman, alongside a number of Arab poets, including the Saudi Fahad Al Shahrani, Qatari Nasser Al Wubeir, and Kuwaiti Sharean Al Deehani.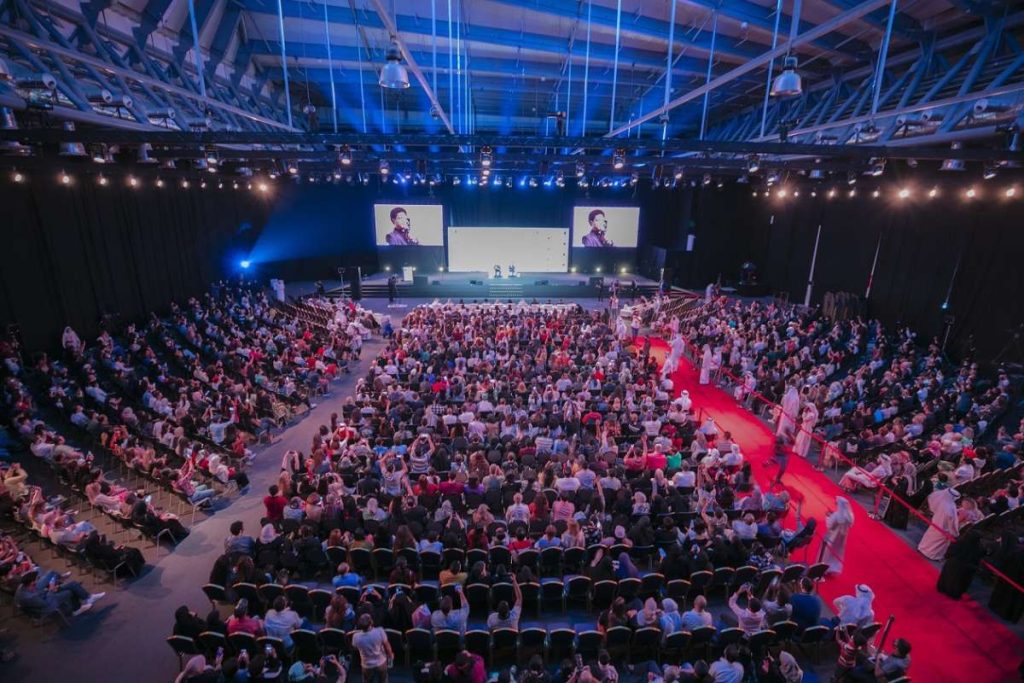 International guests
This year, SIBF 2023 will host Nigerian author Wole Soyinka, a Nobel laureate in Literature in 1986; Canadian journalist, author, and public speaker Malcolm Gladwell; Indian actress Kareena Kapoor; Swedish behavioural expert, bestselling author, and active lecturer Thomas Erikson; Bulgarian author and poet Georgi Gospodinov; Vaclav Smil, Czech-Canadian scientist and author known for his expertise in energy, environment, and technology; American astronaut Sunitha Williams; Dutch author, speaker, and life coach Swami Purnachaitanya; Indian author Monica Halan, and many others.
Six interactive spaces
SIBF 2023 will be home to more than 1,700 activities led by 215 guests from 69 countries. This includes 460 cultural activities led by 127 Arab and international guests, including renowned writers, thinkers, intellectuals, and artists, and Nobel laureates in literature, and recipients of prestigious Arab and international awards. Furthermore, 900 workshops will be held in six interactive spaces led by 31 guests from 12 countries.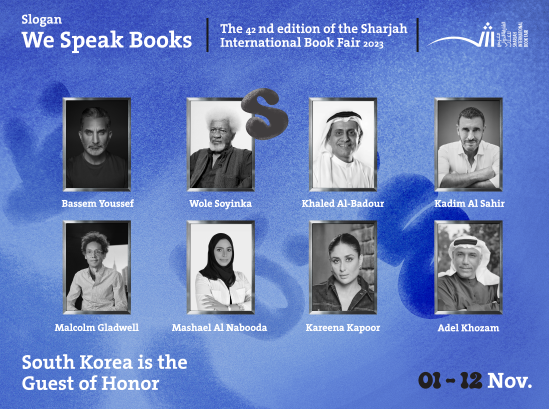 S. Korea's Guest of Honour programme
To celebrate its participation as SIBF 2023 Guest of Honour, South Korea will organise 17 activities as part of its cultural programme titled 'Imagination Without Borders.' The exciting agenda includes 15 cultural programmes, 7 panel discussions, and 5 musical performances by a selection of Korean artists. The honorary guest will also host 3 renowned chefs at the Cookery Corner, in addition to children's entertainment shows and activities.
Social Media Station
Throughout the 12-day book fair, the Social Media Station will host workshops and specialised sessions covering a diverse range of topics, including enhancing partnerships and collaborations with social media influencers and trends, artificial intelligence, as well as the production of AI-enhanced content.
130 shows
A captivating lineup of 130 theatrical performances, directed by artists and performers from 14 countries, will be showcased during the 12-day event.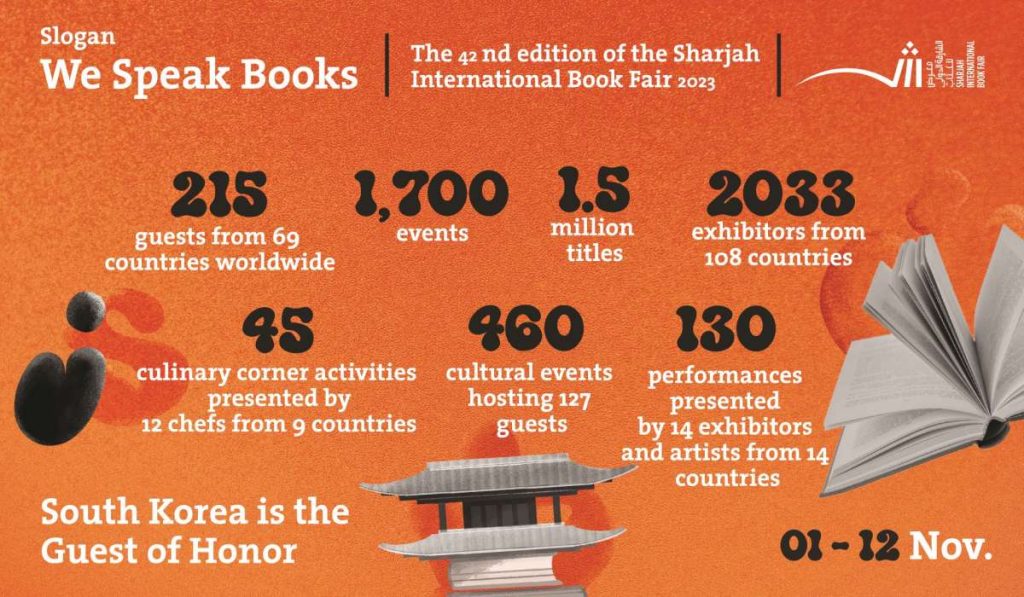 SIBF 2023 will also premiere the play "Barcode Prison," the most significant Emirati theatrical production in 2023. The cast includes Emirati actors Marwan Abdullah, Ahmed Mal Allah, Musa Al Bukishi, Bader Hakmi, Haifa Al Ali, and Reem Al Faisal. Directed by Marwan Abdullah Saleh, the play humorously addresses the issue of bullying.
The cultural extravaganza will also host a children's play by the ALJ Sisters Band, starring Aljoud Albaanon, Wadha Alayoub, and Aljourry Albaanon. The play is about three girls experiencing various situations that teach them valuable lessons and social values.
Cookery Corner
The Cookery Corner this year welcomes 12 international chefs, each showcasing their distinct culinary prowess and cultural nuances through 45 dynamic activities. Participating chefs include Kim Kyeongmin and Kim Joohyun from South Korea, Torie True from the UK, Yohanis Gebreyesus from Ethiopia, Suzanne Husseni from Canada, Sally Butcher from the UK, Irina George from Romania, Marianna Leivaditaki from Greece, Chef Suresh Pilla blending UK and Indian flavours, and Krish Ashok from India.
Thriller Festival
The eagerly awaited second edition of the Thriller Festival is slated from November 8-10, in partnership with Thriller Festival NY. This 3-day event will congregate acclaimed thriller and crime genre writers with their aficionados. This year, the festival will spotlight ten international authors, including bestsellers, to engage with mystery and suspense enthusiasts in the region. Featured authors comprise Felix Francis, Ivy Pochoda, J.D. Barker, Danielle Trussoni, Alex Finlay, Max Seeck, Blake Crouch, C.J. Howe, and Kathleen Antrim.
Library Conference
The 10th iteration of the Sharjah International Library Conference (SILC), in partnership with the American Library Association (ALA), is scheduled from November 7th to 9th. It will assemble over 400 international librarians and specialists representing diverse libraries in the US and around 30 additional countries.
The Sharjah International Book Fair 2023 is open to the public daily at Expo Sharjah from 1 to 12 November 2023, from Monday to Thursday from 9:30 am to 10 pm, and on Friday from 4 pm to 11 pm, and on Saturdays and Sundays from 10 am to 11 pm.