In a grand celebration at the Conrad Hotel in Dubai, the 113th birthday of Saint Mother Teresa was commemorated with great pomp and splendour. This event served as a tribute to distinguished individuals who have demonstrated exceptional dedication to humanitarian causes and outstanding professional achievements
Mother Teresa's 113th birthday was celebrated in style at the Conrad Hotel in Dubai. Saint Teresa was born on 26 August 1910 and the founder of the Missionaries of Charity which grew to have over 4,500 nuns across 133 countries as of 2012. She worked with the poorest of the poor and received several honours, including the Ramon Magsaysay Peace Prize and the Nobel Peace Prize.
The event also served as a tribute to distinguished individuals who have demonstrated exceptional dedication to humanitarian causes and outstanding professional achievements. This is the first time the award show has travelled overseas to Dubai and a few UAE residents were conferred these awards.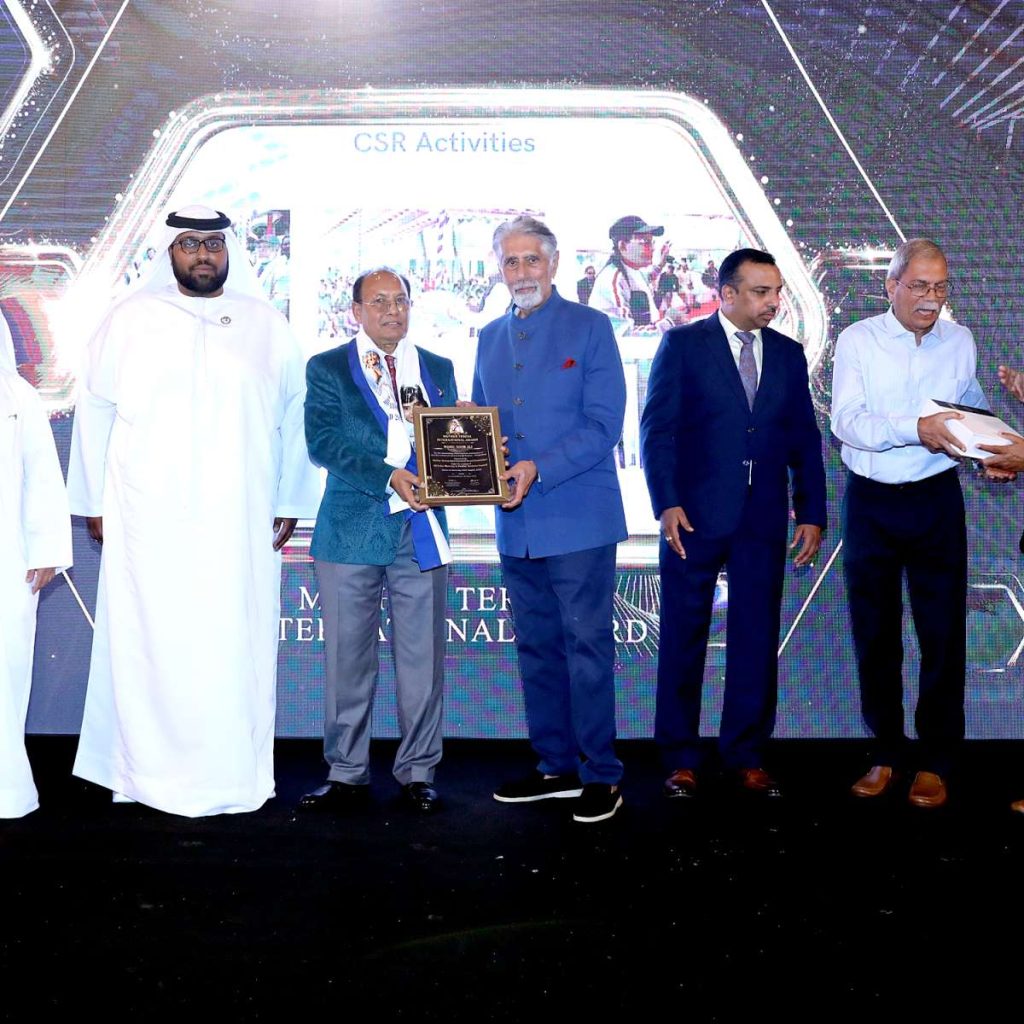 Dubai's own business tycoon and cricket patron, Mr Shyam Bhatia, Patron of the award show addressed the press conference with four other panellists that included Dr. T.H. Ireland, Principal, St. James' School, Kolkata and chairman of the committee. Dr Ireland has had a close association with Mother Teresa and spoke of her compassion and her mission to work with the poorest of the poor. The panel included singing legend Usha Uthup with a career artiste known for her career that has lasted over 4 decades has a close associate of Mother Teresa. She would often visit her and talk to her through her god and bad times and was present at her demise as well as her canonization.
The 2023 Mother Teresa International Awardees include Sheikh Ahmed Bin Faisal Al Qassimi (Culture & Administration – UAE); Mr. Ahamad Al Falasi (Social Work – Dubai); Ms. Usha Uthup (Entertainment – India); Mr. Sacha Jafri (Culture – United Kingdom); Md. Mohibbur Rahman (Politics – Bangladesh); Mohd. Noor Ali (Industrialist & Social Work – Bangladesh); Mr. Satya Prakash Sangwan (Sports – India); Mr. Rajib Sabrawal (Entertainment & Sports – Dubai); Dr. Asif Ali Siddiqui (Healthcare – Dubai); Mr. Pawan Kumar Patodia (Sports – India); Mr. Rupak Saha (Social Work – India); Prof. Girja Shanker (Education – India); Mr. Alhaj Mohammed Solaiman Alam Seth (Social Work – Bangladesh); Ms. Rajnandini Paul (Entertainment – India); Mr. Kamal Gurung (Social Work – Nepal); Mr. Subhajit Rakshit (Entertainment – Dubai); Mr. Omprakash Jhajharia (Social Work – India) and Engr. A.K.M Fazlullah (Social Work – Bangladesh).
The event was well attended by several eminent personalities of Dubai and was regaled by the dance performances of mother-daughter actor/artiste duo Indrani Dutta and Rajnandini Paul. Onstage at the event, Ushah Uthup and Dubai-based Bollywood actor Kalpana Iyer ( whose most popular songs have been sung by Usha Uthup), created a beautiful memory of singing and dancing at their songs together.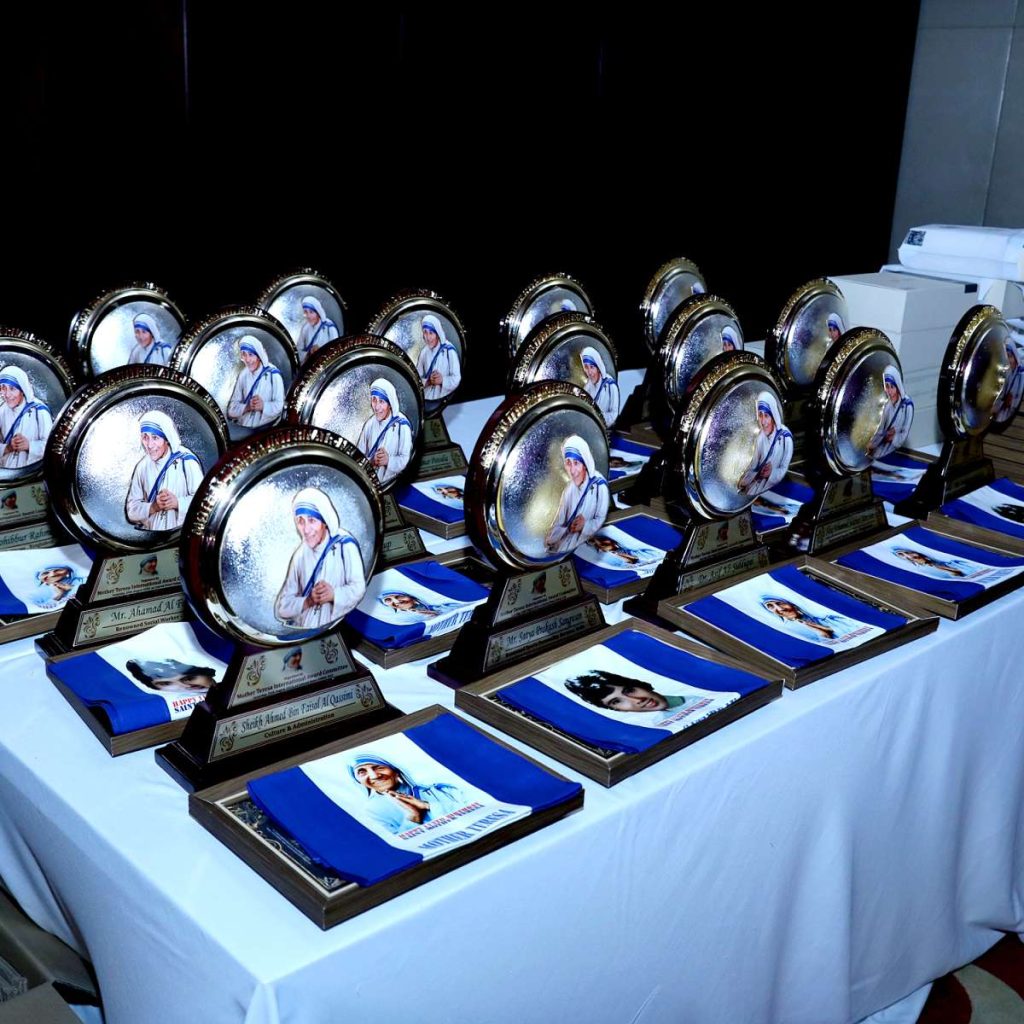 The Mother Teresa International Awards committee expressed their gratitude for the support extended by Mr. Rajeev Sabharwal, Mr. Sangwan, and Mr. Tapan Roy, who serves as the International Convenor of the Mother Teresa Awards Committee and holds positions as Director of ATN Bangla and ATN Medicare. They also acknowledged the contributions of Mr. Lalit Sharma, Director of Operations at Real Impact, Manish Pawar from Prime Vision, Conrad Hotel, AR Pro Events, and Innara
International Awards
It all started with the All India Minority and Weaker Sections Council, a non-political organization established by the late Prafulla Chandra Sen, former chief minister of West Bengal and Mr, Anthony Arun Biswas along with many other dignitaries. The council has been working for the welfare of the weaker sections of the community. After the death of Saint Teresa in 1997, the council formed the Mother Teresa International and Millennium Award Committee and gave them the responsibility to recognise and give away awards every year to eminent personalities who have excelled in the fields of Education, Science, Culture, Sports, Social Work, Medicine, Industry and Politics in the country.
The award's chief patron is the former governor of West Bengal and Former Chief Justice of Calcutta, Justice Shyamal Sen. The award show which dates back 22 years has been conferred on illustrious names such as Dr Manmohan Singh, the former PM of India, Ms Sheikh Hasina- Prime Minister of Bangladesh, Musician and singer, Late Shri Manna Dey , Mr Ajit Wadekar , Coach & Former Captain of Indian National Cricket team, actor Prem Chopra, actor Rajesh Khanna, actor and politician Ms Hema Malini, Late Sri Girija Prasad Koirala – Ex- Prime Minister of Nepal, Late Sri Priya Ranjan Das Munshi – Former MP & Minister (Information & Broadcasting), Govt of India. Sri Oscar Fernandes – Former Minister, Govt. of India, Sri Ram Jethmalani , Ms Rani Mukherjee, Late Tapan Sinha, Singer and artiste Anup Jalota, musician and composer Sri Bhupen Hazarika, Ms Sabitri Chatterjee, Ms Anuradha Paudwal ,Ms Indrani Haider, actor Govinda , Ms Satabdi Roy, Late Fr. Peter Arulraj, the late Henry D'Souza – EX Archbishop of Kolkata,  Mr Shyam Bhatia – Founder of Alam Steel, Dubai 31, the late Mr Jagmahan Dalmiya – President, BCCI & CAB, Bangladeshi ministers, Mr Dipu Mani and Mr Gazi Golam Dastogir ,Mr. Ahmed Akbar Sobhan, Chairman Bashundhara Group, Bangladesh, Dr. H.B.M Iqbal (Ex MP)Chairman of Premier Bank Limited, Bangladesh, Sufi Mohammed Mizanur Rahman, Chairman of PHP Group, Bangladesh, Dr. Mahfuzur Rahman Chairman of ATN Bangla & ATN News.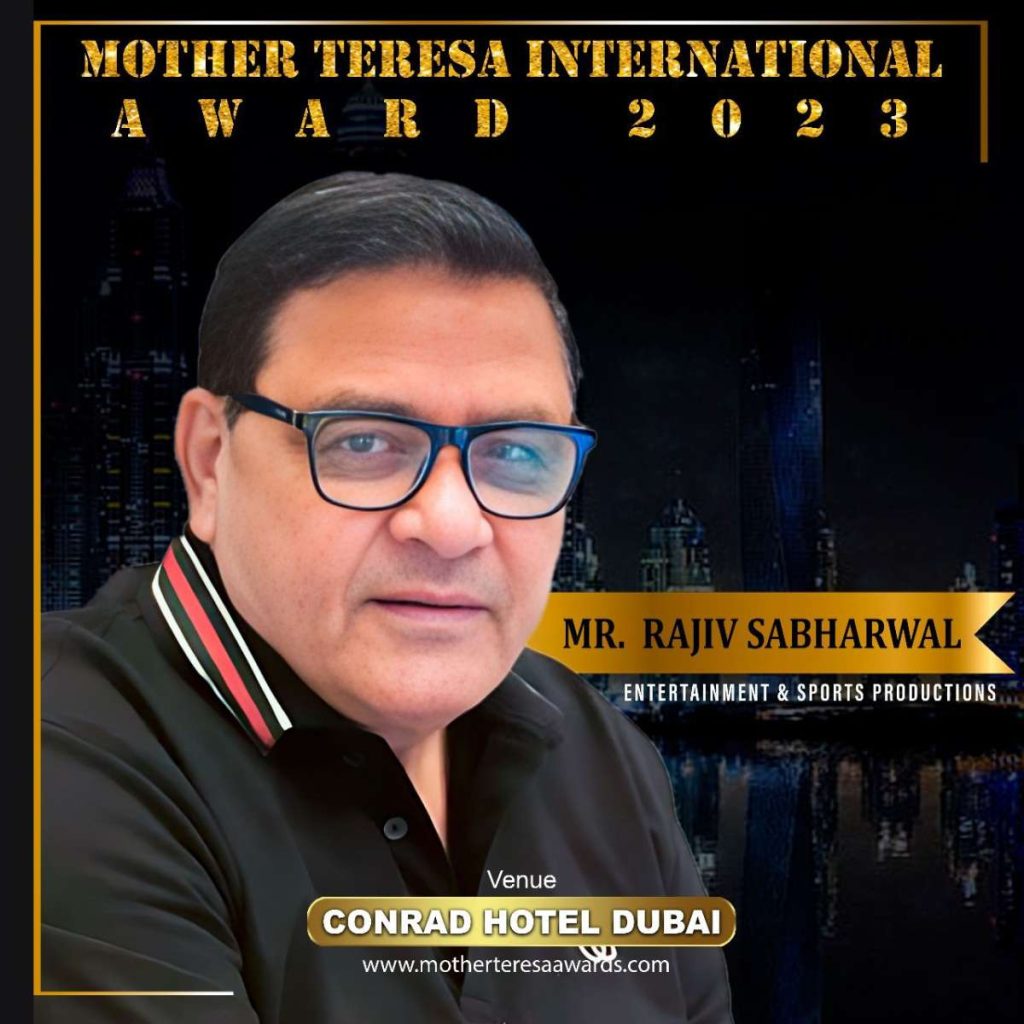 2023 Awardees
Philanthropist Mr Ahmad Al Falasi who is called the Hopemaker of the UAE, a title conferred to him by none other than HH Sheikh Mohammed bin Rashid Al Maktoum, Ruler of Dubai and Deputy PM of the UAE graced the press conference and the event. Mr Falasi works tirelessly to provide medical aid to people around the world, often bridging the gap between the privileged and the under -privileged. His work in Africa, especially in medical facilities has been commendable and he has helped set up dialysis centres in Mombasa and other African regions. He was also on the ground to assist in rescue operations at the recent earthquake in Turkey and continues to be a source of inspiration to us all.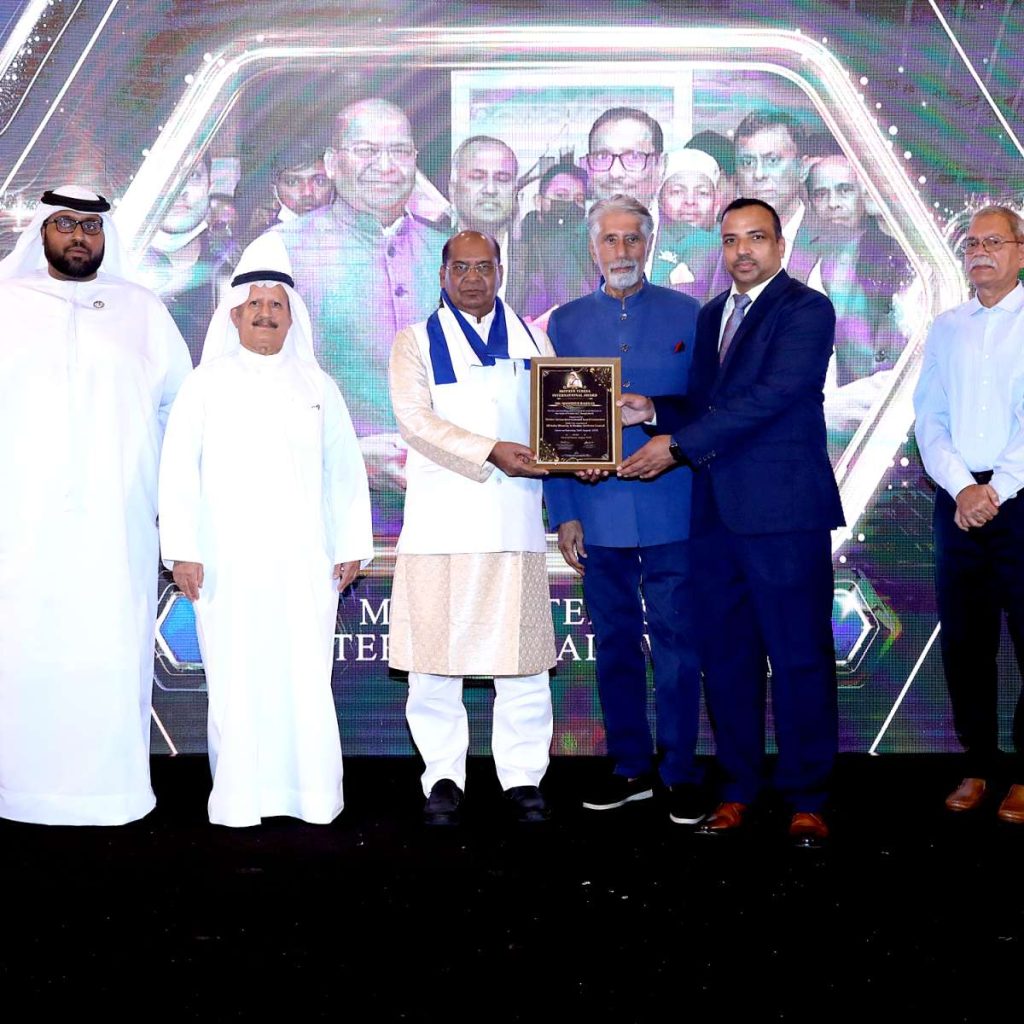 Sacha Jafri Dubai-based world-renowned artist whose work regularly sells for between $ 5 million USD – $25million USD, with his two most expensive pieces reaching as high as $62million and $105million USD, created a poignant artwork onstage. In November of this year, alongside NASA's 50th Anniversary since the last landing on the Moon, history is set to be made as NASA team up with Sacha Jafri, Astrobotic, Spacebit, and Jeff Bezos's 'Blue Origin' on their Lunar mission to place Sacha Jafri's latest creation as the first Artwork to officially be placed on the Lunar Surface of our Moon. This celestial piece shines an eternal light back on our Earth, inspiring a more hopeful future for the reconnection of all Humanity. Jafri's Moon-Landed painting, entitled 'We Rise Together with the Light of the Moon', is set to break all records when it goes under the hammer later this year at an estimate of a record-breaking $105million USD, making it the most expensive work of art ever sold by a living artist.